|
December 04, 2023
|
Reading time: 7 min
|
Views: 6K
Live dealer games are real casino games played live with real dealers, just like you play in a brick and mortar casino. However, the technology also allows for little tweaks, to create new variations of classic games.
Speed Blackjack is the perfect example.
We cover:
We've also got plenty more besides.
Best Live Casinos with Speed Blackjack
Speed Blackjack is widely available at live dealer sites in a variety of countries. The game was developed by Evolution, which is one of the most popular and widely used software providers operating in the live dealer arena.
However it's not a matter of simply signing up to the first casino you find that offers Speed Blackjack. Instead, you need to put some thought and effort into finding not only a safe and secure site, but also one that works best for you.
ℹ Advertiser Disclosure
At Betspin.com we put player safety and security first. While we do accept a commission from partners which may affect brand positioning, we are dedicated to only working with trustworthy and reliable operators. All our reviews are written and rated independently of the paying partner and we reserve the right to decline commissions from operators who do not meet our standards. Our list of top live casinos is not comprehensive of every casino operating in the market but is updated continuously with the best and newest brands.
Unfortunately there are plenty of sites out there that are only too happy to take advantage of unsuspecting players. Only play at sites that have received licences from reputable gaming commissions, and which have strong reputations in the industry.
Apart from security, there are other factors to consider too. Choosing a welcome bonus is key, which we'll talk about in the next section. Appropriate banking methods are also important, as is customer support and mobile options.
The best place to go to learn about all of that and more is our reviews and recommended sites. We cover all the bases so you don't have to, and give you the tools to find the live dealer casino that works best for you.
What is Speed Blackjack?
Speed Blackjack is a variation of blackjack available to play at online live dealer casinos. Like all live dealer games, Speed Blackjack is played in real time with a real dealer. The cards and the table are also real, not computer generated images that rely on a Random Number Generator.
The game is played via a high quality video link. You can place your bets and make your decisions using the digital interface, and when you win the money appears in your account immediately.
Just like sitting down at a blackjack table in the casino, there are a limited number of seats available when you play Speed Blackjack.
The game differs from regular blackjack in one important factor: players don't need to wait their turn to make a decision. Instead, everyone is given their options at the same time as soon as the hand has been dealt.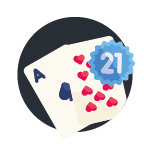 Players can choose whether to Hit, Double Down or Split, and whoever makes their selection first receives their card first.
Normally at the blackjack table you need to wait for your turn to act, which depending on how fast the other players at the table are can mean a not insignificant amount of time hanging around.
Speed Blackjack directly addresses this. The tweak only really works in the live dealer table, where the dealer is presented with each players' decision digitally. In a brick and mortar casino, the format would likely prove too complicated to implement.
Furthermore, the change makes no material difference to rest of the game. The house edge doesn't change, and neither does the optimal playing strategy – it just speeds things up.
The Rules of Speed Blackjack
Speed Blackjack proceeds almost identically to classic blackjack, which you can also play at live dealer casinos.
You will need to find a table with open seats. Once you've taken a seat and decided on your bet size, the dealer will deal you and any other players at the table your standard two-card blackjack hand, as well as the dealer's own hand.
As soon as you have received your cards, your options will appear on screen: Hit, Double Down or Split. And as soon as you make your decision, the dealer will continue.
The game then continues just like regular blackjack. Your goal is to beat the dealer's hand, and get your cards to total as close to 21 as possible, without going bust. The dealer is obliged to hit up to 17 and stand after that.
Speed Blackjack vs Regular Blackjack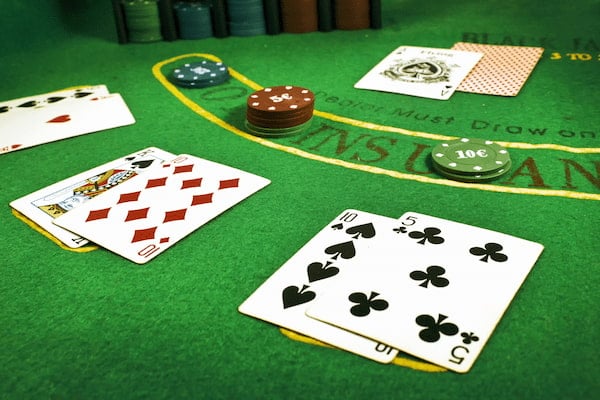 Unsurprisingly, the only real difference between Speed Blackjack and classic blackjack is the pace of play and the number of hands you get to play.
Evolution advertises that the game is on average 30-40% faster than regular blackjack. The extra time is made up from the fact that there is basically no downtime – as soon as any player makes a decision, the dealer acts on it.
Speed Blackjack is perfect when you want to play a quick session and want to make the most of the limited time you have available.
Many players may find they just prefer it to classic blackjack too: it is undeniably a more efficient way to play the game, and there is no mathematical or strategical difference compared with regular blackjack.
At the same time, there are undoubtedly purists who will prefer the flow of the more familiar game. Watching how other players decide to act and chatting with the table is all part of the game of blackjack, and Speed Blackjack is arguably not as well suited to that side of the game.
In addition to Speed Blackjack, providers like Evolution have created more variations of blackjack that you can play at live dealer casinos.
Infinite Blackjack is one example, and like Speed Blackjack it's been designed with maximum efficiency in mind. With Infinite Blackjack, it doesn't matter how many people want to play or how many seats are at the table – everyone can play at once.
The dealer deals out just one hand, which everyone can play however they want. Since there aren't a limited number of seats the betting limits are also lower, and there are a number of side bets available too.
Power Blackjack also follows the unlimited player format, but has even more betting options and side bets. It's played with 8 decks and fewer cards, and differs quite significantly from traditional blackjack – which some fans argue makes it more exciting.
Speed Blackjack Bonuses
Live dealer casinos, just like regular casinos, use bonuses and promotions to attract new players to the site. To get the most out of Speed Blackjack, you should be aiming to find a great bonus that suits your playing style, and maximizes your chances of winning.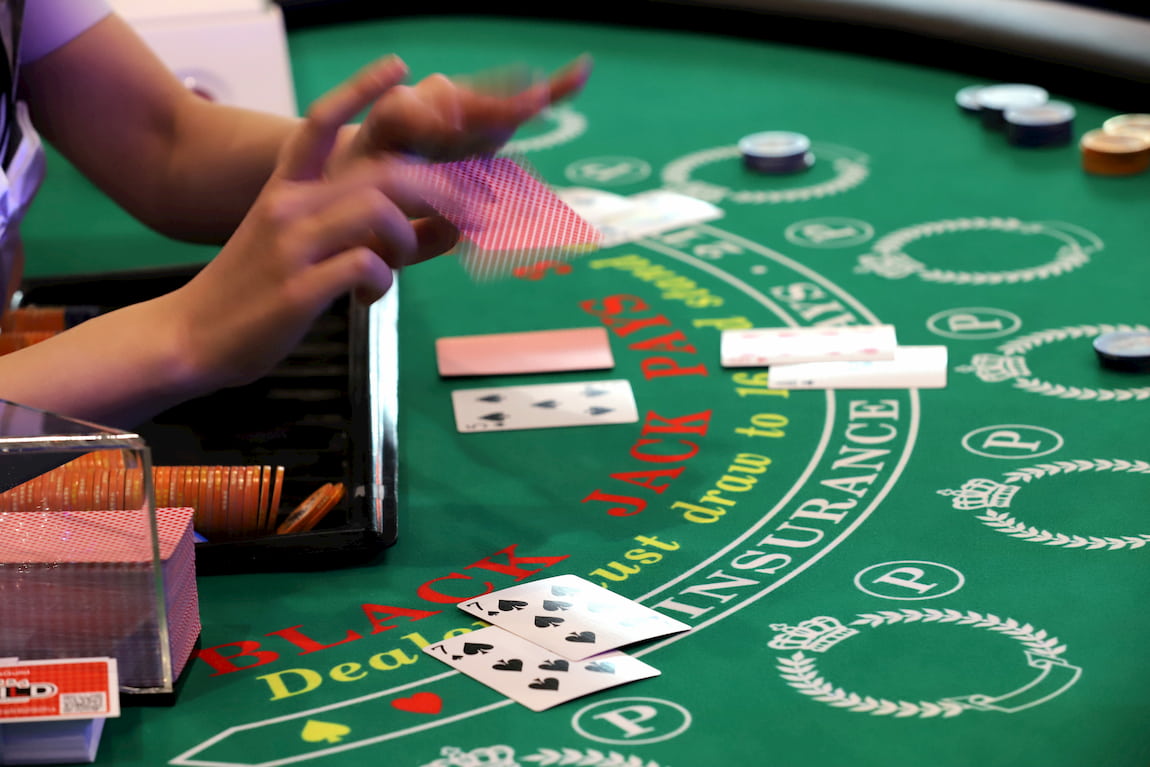 If you're a low stakes player, or you just want to try your hand at live dealer games without risking any of your own money, you can look for No Deposit Bonuses. The casino will give you some cash to play with in return for creating an account. If you end up winning and completing the wagering requirements, the money is yours to keep.
Deposit Bonuses make more sense if you intend to use some of your own money up front. In this case, the casino will match whatever you decide to deposit into your account, up to a certain value.
All casino bonuses come with terms and conditions attached, from playthrough to time limits. To get details on all of that and more, head over to our full guide to live casino bonuses.
Speed Blackjack on Mobile
Speed Blackjack is perfectly suited to mobile play. The game is especially designed for maximum efficiency, to get the most out of whatever limited time you have to play. Perfect for, for example, playing for 20 minutes on your commute to work, or during your lunch break.
Evolution have designed Speed Blackjack to be fully mobile compatible, so you get the same great experience no matter what device you are using. It works great on iPhones, Android phones, tablets and just about anything with an internet connection.
Mobile gaming is constantly growing in popularity, and it's a big reason that games like Speed Blackjack have been created. For more details, check out our live casino apps section.
Tips and Strategy
In terms of house edge, strategy and your chances of winning, Speed Blackjack is exactly the same as regular blackjack. That means any strategies you already employ for blackjack works just as well here.
That said, the game does feel a little different. We got our experts to come up with their top three tips to make sure you get the most out of Speed Blackjack
Use a Strategy Charts for Optimal Decisions
Strategy charts are essential for anyone who wants to make sure they are giving themselves the best chance of winning every time they play blackjack. All you need to do is check both your hand and the dealer's on the chart, and you'll know what the mathematically correct decision is.
Standard blackjack strategy charts work in exactly the same way for Speed Blackjack as regular blackjack.
Avoid Side Bets for the Best Value
There are 2 optional side bets in Speed Blackjack: Perfect Pairs and 21+3. From a purely mathematical point of view, they should be avoided. Both bets have an RTP of around 96%, which is a couple of points lower than regular blackjack – providing you're playing with an optimal strategy.
Of course, gambling is all about taking risks and hoping to get lucky and the house edge means the casino wins in the long run. So if the side bets are your thing, feel free to bet them – but be aware of the drop off in value.
Be Alert and Engaged
Speed Blackjack unsurprisingly moves fast, and the people playing it have chosen it for its speed. The last thing anyone wants at the table is someone who undermines the format by taking too long over their decisions.
Pay attention to the gameplay and be aware of how the game flows differently. And don't be shy with congratulating other players in the chat!
No Time to Waste with Speed Blackjack
Speed Blackjack is a really smart and enjoyable twist on the classic game. There are purists out there who probably don't like the idea of messing with a tried and tested formula – but that's not even what Speed Blackjack is doing.
All the new format really does is speed up play. The game is the same, the strategy is the same. It's true that it flows slightly differently and takes a little getting used to, but the amount of time saved is impressive.
If you ever want to log on for a quick session, to get the most out of your time then the Speed format is a no brainer.
Check out our list of recommended sites to jump into a Speed Blackjack table today.
FAQ
What is Speed Blackjack?
Speed Blackjack is a version of blackjack where the dealer deals cards to whoever makes their decisions first. It means the game can be 30-40% faster than regular blackjack.
Can I Play Speed Blackjack for Free?
No. Speed Blackjack is normally only available to play for real money.
Is Speed Blackjack safe?
Yes. Speed Blackjack is played using real cards and a real dealer – just like in a casino. Evolution, who created the game, are independently monitored to ensure their games are fair.
How Can I Win at Speed Blackjack?
There is sadly no way to guarantee winning, but using an optimal blackjack strategy will give yourself your best shot at winning.
Was this content helpful?
Help us improve our content with your ideas.
Thank you for your feedback! We will do our best to improve this content!