|
September 18, 2023
|
Reading time: 5 min
|
Views: 21.9K
There are countless ways to send and receive money online today. Technology is constantly changing, and innovative new payment methods seem to appear every day – including at online casinos around the world.
No matter how you like to conduct your business online, chances are you'll find a casino that will accept your preferred payment type. However, if you're not sure of the best option for you the number of payment methods out there can be a little overwhelming.
That's where we come in!

Skrill
Multi-layered SSL security
Competitive processing fees
Quick transferring speeds
Accepted in 100 countries

Paypal
Super fast platform
Cheap transactions
Both deposits/withdrawals
Secure and private

Neteller
Popular for gambling
Safe, secure & anonymous
Topping up is free
Both deposits/withdrawals Interac
Quick and secure
Your data is safe
Low fees
Layered security ApplePay
Face ID / Touch ID protection
Quick transactions
No data sharing required
Loyalty schemes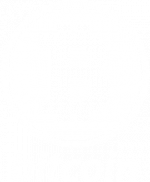 Bitcoin
Full anonymity
Never charges fees
Fastest payment method
E-wallet options

MuchBetter
Top-ranked
Competitive fee rates
Fast depositing/withdrawing
Excellent user interface

Paysafecard
Available in 50 countries
Personal information safety
Easy to manage your funds
Fast processing times Trustly
Incredibly fast and efficient
Free to use
Very safe and secure
No need for an account

Zimpler
Easy to use
Very safe and secure
Personal information safety
Excellent customer support Citadel
No extra account
Your  data is protected
Super fast
Mobile, tablet and desktop

InstaDebit
Quick and safe
Private and secure
Widely accepted
Mobile, tablet & desktop

ecoPayz
Available in 200 countries
Easy & fast payments
Credit & debit cards
Instant money transfer iDebit
Make deposits instantly
Widely accepted
High security & anonymity
Private statements

Neosurf
Online betting with cash
Instant vouchers
Put pin & pay right away
Protected privacy

Brite
No account needed
Private and encrypted
Make payments instantly
Super fast
For more detailed looks at the most popular payment methods, you can check out our full reviews of selected payment types. We go in-depth with everything you need to know about them.
What are the Payment Methods at Online Casinos?
Bank Cards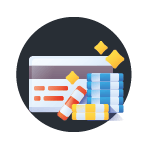 Bank cards, both credit and debit cards, are probably the most popular way to pay for things online. Just about everyone has bought something online with their bank card at some point, and depositing in your online casino accounts works in exactly the same way.
Generally, all major bank cards are accepted, although there are country-specific cards too. Bank card transactions tend to be easy, cheap, and fast.
Prepaid Cards
Prepaid cards are similar to bank cards, in that they are issued by a credit card company like Visa or Mastercard, but they aren't attached to your bank account. Instead, you can just load money onto the card – a little like a gift card. Paysafecard is one of the most popular prepaid card services at online casinos
E-Wallets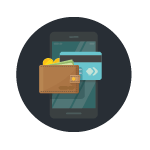 An e-wallet is an online payment system that allows you to store your funds online (in your "wallet") and pay for goods or services directly from your account. When you deposit at an online casino using an e-wallet it creates an extra layer of security between your bank (or however you choose to fund your e-wallet) and your casino account.
E-wallets are a cheap and safe way to fund your account and are extremely popular in the world of online betting – although not every casino accepts every single e-wallet. Some are also geo-locked.
Some of the most popular e-wallets include PayPal, Neteller, Skrill, and Trustly.
Bank transfers
Bank transfers are an easy way to send money directly from your bank account online. Lots of people already have experience making bank transfers, so they are a popular way to fund online casino accounts.
There are also lots of country-specific bank transfer services, like Interac in Canada for example, which are widely available at online casinos in those countries.
Wire Transfers
Wire Transfers are similar to bank transfers in that they are sent directly from your bank account, but normally you need to actually go into your bank to manually request the transfer.
Cash in Person
By the nature of online casinos, cash is not an especially popular payment method simply because it's not widely available. However, you can certainly find sites out there that are partnered with casinos which will allow you to deposit money directly at the physical casino.
Paying in cash is great in that it's free, secure, and easy, but it's also either not possible or very inconvenient for lots of players
Cryptocurrency
Cryptocurrencies have surged in popularity at online casinos in the last several years, with the most popular being Bitcoin. Casinos that accept Bitcoin or other cryptocurrencies will allow you to make direct transfers between your wallet and your casino account.
Vouchers
Vouchers at online casinos work just like vouchers in any other walk of life.
You pay for a voucher (usually in the form of a code) that you can exchange for goods or services (in this case in the form of cash in your account). Vouchers are popular for some players because they are one of the rare payment methods that allow you to pay in cash.
Ukash is one of the most popular voucher services in the UK, while PayNearMe is popular in the US.
Mobile Payments
Mobile payments let you send money directly from your phone, usually from an app. You can upload money or connect your bank account to your preferred mobile payment service, similar to an e-wallet. MuchBetter, Zimpler, and ApplePay are all popular mobile payment services.
Things to Consider When Choosing a Payment Method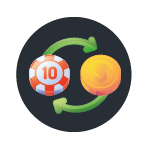 As you can see, there are a lot of options out there! And also a lot of factors that go into deciding which one to choose.
In this section, we've collected the most important considerations when thinking about the difference between payment methods.
Every player is different. Some of these factors may be very important to one player but not much of concern to another. Before choosing how you want to make transactions, you should ask yourself which of the following are most important to you.
Processing Fees
This is a big one, and likely to be important to every player to varying degrees. The vast majority of online casinos will have some kind of option for depositing with no processing fees at all.
Some casinos don't charge deposit fees but may charge you to withdraw, and some never charge any fees at all.
It's also useful to remember that fees can be incurred either by the casino or by the payment method. For example, most casinos don't charge any fees for depositing via e-wallet, but some e-wallets charge service fees to their customers.
In our experience, the best casinos tend to have good options for both depositing and withdrawing with either no fees or very minimal charges incurred somewhere.
Processing Times
Another important consideration. Players rarely like to be waiting around, and prefer to strike when the iron is hot.
The casinos know this, and for this reason, the vast majority of deposits are processed instantly.
Withdrawals are another story. It's common for a casino to apply a mandatory pending period on all withdrawals (basically in the hope that players get impatient and cancel the withdrawal request). It could be anything from a day or two to a week, depending on the withdrawal method.
That said, there are plenty of casinos out there that offer instant withdrawals, either for all methods or some specific ones. If getting fast access to your money is a priority for you, certain sites facilitate that.
Deposits vs Withdrawals
When depositing money in your account, remember that you're going to want to withdraw later on (hopefully!).
Some banking methods are only available for deposits. In this case, make sure there is also a suitable withdrawal option available before choosing. Lots of casinos also only allow you to withdraw via a certain method only if you have already used the method to deposit. It pays to investigate this kind of thing carefully upfront and avoid a headache later on.
Privacy
Some methods are more private than others, and that is a big appeal for some players.
For example, some players for whatever reason will prefer not to have a payment to an online casino appear on their bank statement. In this case, online e-wallets that act as intermediaries are very useful. Vouchers that can be paid for in cash are even more discrete.
For some players, this kind of thing won't matter much but for others, there are ways to both deposit and withdraw that emphasize privacy.
Convenience
Convenience or ease of use is such an obvious consideration that you might almost forget about it, but it's a huge factor.
It makes sense to use a payment method you understand and trust. For lots of people, this means sticking to something they already know, like bank card payments.
It's completely understandable not to want to sign up for third party services or learn to use new technology.
Bonus restrictions
This is something that can easily be overlooked in the small print of welcome bonuses. Some bonuses are not available with certain payment types, often specific e-wallets.
For example, an online casino may offer new players a 100% deposit bonus but it won't apply if you choose to deposit via Neteller.
It's always worth checking out the welcome bonus terms and conditions before you choose how to deposit.
Geolock
Some payment types are only available in certain countries or regions. This is usually made very clear, but it's something to be aware of.
Options For Every Player
There you have it, the full range of considerations when choosing how to deposit and withdraw at online casinos.
Remember that you can read much more in-depth reviews of the most popular payment methods right here on BetSpin.
Our last word of advice on banking methods is to always check the terms and conditions in advance to make sure the payment method ticks all your boxes.
Was this content helpful?
Help us improve our content with your ideas.
6
people found this content useful
Thank you for your feedback! We will do our best to improve this content!