Best Live Casino Sites in South Africa
ℹ Advertiser Disclosure
At Betspin.com we put player safety and security first. While we do accept a commission from partners which may affect brand positioning, we are dedicated to only working with trustworthy and reliable operators. All our reviews are written and rated independently of the paying partner and we reserve the right to decline commissions from operators who do not meet our standards. Our list of top live casinos is not comprehensive of every casino operating in the market but is updated continuously with the best and newest brands.
Loads of excellent international sites have developed South Africa facing platforms, specifically to take advantage of the level of interest in the country. These sites will let you deposit in rand, use South African banking options and even offer exclusive sign up bonuses to players from SA.
With so many options out there, it's extremely important to only choose safe and secure sites. Since they're not regulated in SA, dodgy international sites can easily take advantage of unsuspecting players.
We strongly recommend only playing at fully licensed sites with a trusted reputation in the industry, like the sites you can see on our recommended list below.
We only give our seal of approval to the best sites, where we are certain you will have an excellent time playing live casino games.
Live casinos are the future of online gambling – marrying the authentic atmosphere of a real casino with cutting edge technology that allows you to play anywhere.
Kick start your live casino gaming experience in SA right here.
How to Choose a Live Casino
There are lots of considerations that go into selecting a casino. First and foremost, you want to make sure you are playing at a safe and secure site – one which you can trust. You'll want to know your favorite games are available. Welcome bonuses are a big consideration: there are lots of variations out there and you should try and locate one that suits the way you play.
Deposit and withdrawal options are important. You should make sure in advance that there is an option that works for you, and that you're cool with the processing time or any potential fees. Customer support is something to think about, as is software and mobile capability.
Now if all that sounds like too much work, our reviews can help you out. 
Are Live Casinos Legal in South Africa?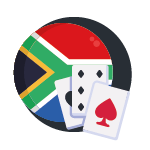 South Africa's gambling laws vary depending on the province. The laws surrounding physical gambling tend to be more lenient, and there are around 40 different active casinos in SA today.
Online gambling is a little more tricky.
Only a handful of sites have been granted licences in South Africa, and all of them are for sports betting. No legal online casino or live casino sites are currently hosted in the country.
But that doesn't mean you can't play. Instead, thousands of South Africa residents play live casino games at international sites which accept players from South Africa. Since they're not located in the country, these sites are not bound by SA laws and not technically illegal.
It's a bit murky from a legal point of view, but as long as you stick to only playing at safe and reputable sites – ones with valid licences from other countries – you'll be fine.
Favourite Live Casino Games in South Africa
The live casino scene in South Africa is still young and growing, and there are loads of gaming options out there for new players.
Live roulette is a staple of live casinos and for good reason. As fun as virtual roulette is, there's just no substitute for hearing a real ball bounce around the wheel, waiting for the blur to slow down and craning forward to see if it's landed on your lucky number – and this is exactly what you can do with live roulette.
Live casino games are also way more interactive than traditional casino games. The chat feature means you can engage in a little cheeky speech play with poker games, or chat to the dealer while they deal the cards in blackjack.
Overall, it's a more social experience, just like being in a casino.
As well as classic table games, lots of live casinos have fun board games or game show type games. These types of games are a great alternative to standard casino games, and really benefit from the interactive element of live gaming too.
Live Casino Bonuses in South Africa
Every single live casino, no matter where in the world the site is hosted, is invested in attracting new players, and one of the main ways they do this is with welcome bonuses.
Players in South Africa are especially lucky, since they have their pick of bonuses from sites all over the world.
Enhanced deposits, which match your initial deposit with bonus cash, are widely available for SA players. So are no-deposit bonuses which give you a smaller amount of bonus cash without even having to make a deposit yourself.
There are also plenty of on-running promotions to keep existing players happy, like enhanced odds on the roulette table or some free hands at blackjack.
What Is the Best Live Casino Bonus?
That kinda depends on how you like to play.
Although some bonuses are certainly more valuable than others, there aren't really any hard and fast rules.
For example, if your game is blackjack you won't be too interested in a roulette promo.
Your best bet is to check out our reviews of the best sites open to South African players. We cover the different bonuses on offer at each one in-depth.
How Do We Rate Live Casinos?
We rate casinos so you don't have to. When we set out to review a site, our experts go through the same rigorous process to make sure we consistently give the most information and the best advice every time.
We sign up. We deposit money. We play the games. We make withdrawals. We contact customer support. We test out the bonuses.
Everything in our reviews is what we have personally experienced at the site – the good, the bad and the room-for-improvement. 
Our goal is to shine a light into all those different considerations, so that when you read our review you'll be able to get an immediate sense of whether this is the casino for you. 
How to Deposit and Withdraw
International sites aiming to attract players from countries like South Africa know they have to make life as easy as possible for them.
When it comes to banking, that means having lots of different options and making transactions as fast, secure and cheap as possible.
You can deposit and withdraw in the cashier section of a casino. Generally, it's a very simple process. The casino will guide you through the steps and it should only take a couple of minutes.
Deposits are usually instant, while withdrawals may take some time to be processed.
Some of the typical options at South African casinos are as follows:
Bank Cards
E-wallets like PayPal, Neteller and Skrill
Prepaid Cards
Bank Transfers
Wire Transfer
You can read a lot more about all of these options and more in our live casino banking page.
History of Gambling South Africa
Gambling in South Africa was illegal for much of the country's history, but as is often the case, that didn't stop South Africans from gambling. Throughout the 20th century, gambling thrived in South Africa – both in terms of organized gambling on the black market and more casual gambling amongst friends.
Black market gambling was perceived as a source of a variety of social problems. Since the market wasn't regulated or taxed, the associated issues facing the country were considerably more pronounced than with a responsibly run gambling culture.
Things came to a head in 1996, when the federal government moved to create a partially legal gambling industry as a way to protect its citizens. The individual provinces were also empowered to determine some of their own gambling laws, and a land-based gambling culture began to grow.
Updates to the 1996 Gambling Act came in 2004 and 2008, and today the country has more than 40 casinos, with at least one in every province.
In more recent years, there was considerable speculation as to whether SA would embrace the booming online gambling industry. The answer came in 2010, when a court case determined that basically all online gambling was illegal in South Africa.
The judgement theoretically affected all sites hosting players from South Africa, but since the international sites that market themselves to SA players aren't hosted in the country there have been no real legal repercussions for them.
Live Casinos vs Land Based Casinos
In countries where playing at real, land based casinos is complicated – as is the case in South Africa depending on which province you're in – playing at live online casinos is the only way to experience real in person gambling.
Live dealer games are usually broadcast from land based casinos, so not only are the dealer and the table totally genuine, but you even get to see and hear the atmospheric hum of casino activity in the background. Unlike traditional trips to the casino, you can play live dealer games no matter where you are, at any time of the day. All you need is a connection to the internet and a laptop or mobile phone. 
We love going to the casino, so we don't necessarily think live dealer games are going to replace the real thing any time soon. However, for all those people who don't have access to land based casinos, who don't have the time or can't afford to go, or who just want to catch a glimpse of that world – live casinos are perfect. 
Playing Around the World From South Africa
With an extremely healthy live casino culture in South Africa, it's a shame that the government decided to ban the country from hosting online casinos.
But then, SA's loss is the rest of the world's opportunity.
Some of the top betting sites anywhere in the world have gone out of their way to attract players from South Africa, which can only be a good thing from a player's perspective.
From welcome bonuses, banking options and tons of amazing live dealer games, it's an exciting time to play from South Africa. Check out our reviews, and sign up with our links to claim your welcome bonus.
FAQs
Is it legal to play at live casinos in South Africa?
Due to some strict online gambling laws, there are no legal live casinos hosted in South Africa. However, South African residents can still play online at licenced international sites which are happy to accept players from SA.
What live dealer games are available in South Africa?
Some of the most popular live dealer games include live roulette, blackjack, poker, baccarat, keno, slot games, board games, bingo games, game shows and more
Are there bonuses for new players at live casinos?
Yes, live casinos have lots of different promotions, including welcome bonuses for new players.
Can I use South Africa payment methods?
Yes. International sites typically have lots of banking options, including payment methods popular in South Africa.