Best Live Casino Sites in Malaysia
ℹ Advertiser Disclosure
At Betspin.com we put player safety and security first. While we do accept a commission from partners which may affect brand positioning, we are dedicated to only working with trustworthy and reliable operators. All our reviews are written and rated independently of the paying partner and we reserve the right to decline commissions from operators who do not meet our standards. Our list of top live casinos is not comprehensive of every casino operating in the market but is updated continuously with the best and newest brands.
Malaysian players are lucky, in that some of the most well-regarded sites in the entire world are happy to accept players from there.
You can see our full list of recommended sites above.
If we recommend a site at BetSpin, you can be sure it's excellent. Our team of experts reviews every site we recommend, and only sites that are safe, legal and very high quality make the cut.
As a predominantly Islamic country, Malaysia has some pretty strict laws when it comes to gambling. You might therefore be surprised to learn that online gambling is a thriving industry amongst Malaysian players – and live casinos are the latest exciting development.
This is because even though there aren't any sites hosted in Malaysia, residents can still play at trusted international sites.
Live casino games are great because they transport you into a real casino from the comfort of your own home. While traditional virtual games do a good job of recreating the atmosphere, live games have the real thing: real dealers at real tables in real casinos.
Once you've read this page you'll be ready to hit the live tables in Malaysia. Let's jump in.
Are Live Casinos Legal in Malaysia?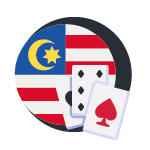 The legal situation is a little tricky.
Basically, under Sharia law (as Malaysia is governed) gambling is illegal, both online and offline. This means that no online gambling sites may be operated in Malaysia. But it certainly doesn't mean no one is gambling there.
Malaysian law forbids Malaysian online casinos – it makes no reference to casinos in other countries. And there are loads of top quality international sites that cater specifically to Malaysian players. That means Malaysian banking methods, bonuses for Malaysian players and even the ability to play in Malaysian ringgit!
Now we should say at this point that we definitely do not advocate signing up with just any live casino that accepts Malaysian players. Unfortunately, there are plenty of dodgy sites out there.
Instead, we recommend gambling at licensed and regulated international sites that have a trusted reputation in the industry.
Favorite Live Casino Games in Malaysia
For a country where it's technically illegal, Malaysians sure love to gamble. In terms of virtual casino games, online slots are the most popular way people like to bet online.
Slots don't translate especially well to live casinos, since there are no dealers required and the action is virtual anyway. However, some providers have begun to produce live slot games, which allow you to bet on a real physical slot machine via video link.
Although we're fans of traditional virtual slots, there is certainly something satisfying about the analog feel of slots at the live casino.
Classic table games with dealers are the more natural fit at live casinos however.
Roulette for example is absolutely perfect for live casinos. Watching a real dealer physically spin the wheel and hearing the familiar rattle of the ball simply feels more authentic than a virtual video. Joining a real table for a quick session is just so easy, like teleporting into a casino.
The same is true for blackjack. The swish of the cards as they are dealt out is extremely satisfying. Most live casino tables have a live chat feature which lets you chat to the dealer and the other players. For a naturally social game like blackjack, this is a game-changer.
There are plenty of other live games for Malaysian players to try too: poker, keno, baccarat, game show games and more.
Live Casino Bonuses in Malaysia
Having the pick of the best international sites means also having the pick of the most valuable bonuses.
Just about every live casino will offer some kind of bonus for new players from Malaysia, so it pays to figure out which one is the best option for you.
Every player is different, and different types of bonuses are more valuable for some players than others.
If your bankroll is on the low side, look out for no-deposit bonuses which will give you a small amount of bonus cash up front totally free, with no need to deposit any of your own money.
If you like to spend a bit more freely, boosted deposit bonuses can double your initial deposit, often up to a pretty high limit.
A little research up front about the best bonuses and how you intend to play can be really worthwhile. You can read more on our bonuses page.
How to Choose a Live Casino
If you're in Malaysia and you want to gamble, chances are you're going to be doing so at a safe and secure international site. This effectively means you have the whole world to choose from – so where do you start? 
Well, our reviews and recommended sites are here to help. We dig into everything you need to know to make an informed decision before signing up with a site, from the software to the banking options. 
No two casinos are exactly alike, and the same is true for gamblers. It's all about figuring out what you're looking for from your online gambling experience and getting matched up with the perfect casino. Let us rate them so you don't have to. 
How Do We Rate Live Casinos?
Our BetSpin experts have tons of experience in the gambling industry, and we have tailor-made our review process to address the top concerns of gamblers around the world. We personally sign up and play at every single casino we review, and test out all the typical activities like depositing, withdrawing and contacting customer support. 
We go deep on bonuses – beyond the headline welcome bonus for new members – to figure out how valuable a casino's promotions really are. We sift through the small print to explain wagering requirements, and make sure everything is up to scratch with on-running promos for existing members.
We pay special attention to a site's licences and security, which is especially important if you're choosing an international site from Malaysia. Our goal is to never recommend a site unless we are 100% sure it can be trusted, and that player welfare is taken seriously.  
How to Deposit and Withdraw
Sites that cater to players from lots of different countries tend to be well stacked with banking options.
There are lots of payment types out there that are exclusive to one country or region, and casinos want to give absolutely everybody the chance to play.
Once you've signed up with a live casino, you can head to the cashier section to make your deposit. The depositing process is generally very easy – you just need to choose your method and follow the instructions.
For the most part, deposits tend to be almost instant so you can start paying straight away. Withdrawal times vary, but may take a little longer.
You can check out our banking section for a more comprehensive look at banking options in live casinos.
Below you can see some of the most common payment types.
Bank Cards
Prepaid Cards
Bank Transfers
Wire Transfer
History of Gambling in Malaysia
Gambling, at least legal gambling, has not been a big part of Malaysian society since 1953. That was the year Malaysia passed its Betting Act, which outlaws basically all forms of gambling and mandates fines and even prison sentences for those who break the law.
Since the Act was written so long ago, its language doesn't allow for online betting – and certainly doesn't make any reference to sites hosted outside of Malaysia. It's for this reason that Malaysians can play at international sites with no real concerns, even if it's a bit of a legal grey area.
There is one huge exception to Malaysia's otherwise strict gambling laws.
Genting Highlands is the country's only casino, and it's a really incredible one. Set on the peak of Mount Ulu Kali at 6,000 ft above sea level, Genting Highlands is a luxurious tourist resort including hotels, a theme park, entertainment facilities, and two casinos.
Genting Highlands gets a free pass in Malaysia because it's recognized as one of the country's chief tourist attractions, and only non-Malaysians (who are not subject to Sharia law) are allowed to gamble in it anyway.
Malaysia Live Casinos vs Land Based Casinos
Genting Highlands is the only casino currently in operation in Malaysia, and chances are the average person won't get too many opportunities to play there too often. That's what makes live online casinos such an incredible alternative: they bring the live casino action to you.
Live dealer games are generally filmed in real casinos. The dealers are professionals, and the table, cards and even the ambient sounds are all real authentic pieces of the casino atmosphere. Even more amazingly, all of that is available 24/7 at the touch of a button, via laptop or mobile.
It's true that the excitement of standing in a real casino surrounded by happy gamblers is hard to recreate at home, but live dealer games go a very long way to managing it. 
Malaysian Gamblers Look to International Options
For a country where gambling is illegal, there sure are a lot of people playing online casino games in Malaysia!
Live casino games are exploding in popularity at online casinos right now, and with so many options for Malaysian players there has never been a better time to sign up and try them out.
Check out our list of recommended sites to find the very best live casinos out there.
FAQs
Is it legal to play at live casinos in Malaysia?
It's complicated. Practically all forms of gambling are illegal in Malaysia, but the laws don't make reference to betting using international sites which are not hosted in the country. What we can say for sure is that thousands of players are playing live casino games from Malaysia with no legal issues.
What live dealer games are available in Malaysia?
Each casino is different, but most top international casinos will have some or all of live roulette, blackjack, poker, keno, baccarat, wheel of fortune, board games, game show games and more.
Are there bonuses for new players at live casinos?
Yes, every site has bonuses and promotions for new players from Malaysia.
Can I use Malaysia payment methods?
Yes, every site has bonuses and promotions for new players from Malaysia.