|
September 18, 2023
|
Reading time: 8 min
|
Views: 19.6K
Best Online Craps Casinos
Craps is very fun and interactive.  A huge part of the game is the communal experience, with everyone at the table together cheering on the thrower and hoping to all get lucky.
With online casino dealer craps, you get to experience that with people from all around the world from the comfort of your own home.
Craps also has a reputation as being one of the more complicated table games out there, but live technology has made it much easier to follow the action, place bets and understand how to win.
ℹ Advertiser Disclosure
At Betspin.com we put player safety and security first. While we do accept a commission from partners which may affect brand positioning, we are dedicated to only working with trustworthy and reliable operators. All our reviews are written and rated independently of the paying partner and we reserve the right to decline commissions from operators who do not meet our standards. Our list of top live casinos is not comprehensive of every casino operating in the market but is updated continuously with the best and newest brands.
On this page, we've got all the details you need to know to start playing online casino craps today.
What is Online Casino Craps?

Online casino craps is a way to play real craps online. The game uses a physical table and dice, and a real professional dealer runs the game and pays out winning bets immediately – just like craps in a casino.
With online dealer craps, you have a digital betting interface. All the classic craps bets are available, and there is also the added bonus of also being able to see what you stand to win from each possible number. This feature is called My Numbers, and it's especially useful for newbies.
Since there are no physical players, there is no limit to the number of people who can play at the same time. The dice are thrown by an automated machine, with the help of the dealer.
Online casino craps is played in real-time, so you need to be tuned in – just like in the casino.
How To Play Online Craps
Craps is even easier to play online.
Place your bets
The dice are rolled
The dealer pays out wins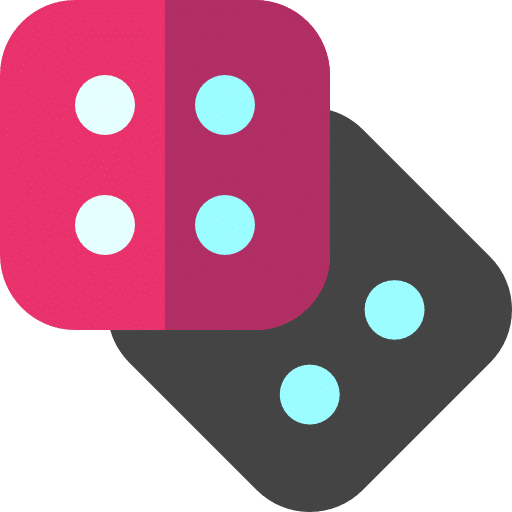 The rules of online craps are the same as regular craps in a casino, albeit with a few adjustments to make the game easier to play online.
With craps, everyone at the table is betting on the number that will be rolled. Since there are two dice in craps, the roll is always between 2 – 12.
The rolls in craps follow a specific pattern. The first roll is known as the Come Out Roll, and bets on this roll are known as Pass Line Bets.
A Pass Line Bet wins at 2:1 if a 7 or 11 is rolled. It loses if a 2, 3 or 12 is rolled, and the round is over. This is known as crapping out.
If any other number is rolled, this becomes the Point Number and the game continues. With a Point, Number established you have new betting options, and typically the table is betting against a 7 is rolled before the Point Number.
Once a 7 is rolled, the round is over and the game restarts.
There are lots of ways to bet in craps and playing online is a great way to learn. Evolution Gaming's technology displays exactly how much you stand to win from each bet, so it's perfect for getting a feel for how the different bets work.
With online craps, you place bets by selecting your chip size and clicking on the desired bet on the virtual craps table. You'll see your virtual chips appear on the bet, and if you win the money goes right into your account immediately.
Every bet in craps has different odds, and some are significantly more valuable than others. We've got some useful advice about the highest value bets below in our strategy section, but you can also see a list of classic craps bets below:
Pass Line & Don't Pass Bets
Come & Don't Come Bets
Odds Bets
Place Win
Place Lose
Buy
Lay
Big 6 and Big 8
Hardways
Field
Proposition Bets
Variations of Online Craps

While some popular online dealer games like roulette, blackjack and poker have multiple variations that have been created especially for online casino dealer play, crap is a little different.
Online dealer craps largely stick to the standard game, albeit with some little touches to make it even easier to play.
Evolution Gaming's online dealer craps game for example has two features that help make the game simple and accessible. One is the My Numbers feature we mentioned earlier, which shows what numbers you need to win.
The other is Easy Mode, where lots of the betting options are removed and you can just stick to the most straightforward bets only.
If you want an alternative to online dealer craps you can always try First Person Craps, which is also produced by Evolution. In this version, the results are determined via an RNG rather than physical dice, and the emphasis is instead placed on amazing digital graphics.
Bonuses and Online Craps
Online casino dealer sites are always on the lookout for new players, and the main way they try to attract them is via online casino bonuses.
Once you've claimed your bonus you can head straight to the craps table and try to run up a big bankroll.
There are different types of bonuses out there, and the best one to choose depends on how you like to play.
No Deposit Bonuses
With a no deposit bonus the casino will give you some money to gamble with just for signing up. You don't need to spend any of your own cash or even type in your bank details – just create an account and start betting.
No deposit bonuses are usually worth around $10 or $20 and can't be withdrawn. Instead, you can only use it to gamble and you need to bet a certain number of times before you'll be able to withdraw any of your winnings. This is known as the wagering requirements.
No deposit bonuses are great if you don't have a huge amount of money to spend on online gambling, or you just want to try out a new site without worrying about losing real money.
Welcome Bonuses
Unlike no deposit bonuses, a welcome bonus requires you to deposit some of your own cash. In this case, the casino will match some or all of your first deposit with bonus cash so you have even more to play with.
Winnings will also be subject to wagering requirements, but they are usually less strict than those associated with no deposit bonuses. The limits are higher too – you can easily find a 100% deposit bonus worth up to a few hundred dollars.
Regular Promotions and Other Bonuses
In addition to welcome bonuses for new players, most casinos have regular promos to keep existing players happy and make sure they are still playing at online dealer tables.
Reload bonuses are common, which are just like welcome bonuses but not based on your first deposit. There are also VIP Programmes, where you can earn loyalty points the more you play. Once you've earned enough points you can cash them in for prizes, like free bets, bonus cash or invitations to tournaments.
Online Craps on Mobile

Mobile is not only the future of online gambling, it's the present too.
The vast majority of online dealer casinos have made their technology fully mobile compatible, so you can play just as easily on your cell phone as your laptop.
Online Craps works perfectly on mobile. Since all you need to do is place a bet before every roll, the simple interface is more than easy enough to use. The live feed is crystal clear on the small screen, and you have the exact same options as the desktop version.
You can even chat to other players easily while you play, all from your phone, no matter where you are in the world.
You can head over to our online casino apps section for even more details about mobile gambling.
Tips and Strategy
We don't just want to point you in the direction of the craps table, we want to make sure you have the best chance of winning. In this section, we've collected some of our expert tips to keep in mind at the table.
Create a budget and stick to it
Make sure your internet connection is reliable
Learn the different craps bets before playing for real
Be prepared to keep up with the dealer
Use the in-game help
Take Your Time

Craps is a more complicated game than roulette or blackjack, and if you don't know what you're doing you could end up losing money without even realizing what's happening. Go slow while you are learning to avoid this.
Observe the action of the online table first before risking your own money. Play virtual craps for free money to get a feel for the bets. Use Easy Mode to learn the basic bets before graduating to the more complicated ones.
If you're new to craps, there is going to be a learning curve so take your time and embrace it.
Odds Bets For Value

Every bet on the craps table pays out at different odds and has a different house edge. Only one of them has no house edge at all, making it mathematically the best bet on the table: Odds bets.
Odds bets are the bets you can place immediately after a Point Number is rolled, where you bet that the Point Number will appear again before a 7 is rolled. If you want to give yourself the best chance of winning, you should always take the odds bet.
Avoid Single Roll Bets

On the other hand, there are some bets you really want to avoid because the house edge is just too high. Single roll bets are siding bets on the next number rolled, regardless of whether the Point Number has been established or not.
While tempting because they are simple to understand and place, the house edge on these types of bets make them not really valuable. For example, a bet on Any 7 is paid out at odds of 4:1, even though its true odds are 5:1.
Real Money Craps vs Free Play Craps
Normally you won't be able to play at an online casino dealer craps table for free, but there are two good alternatives.
The first is to play virtual craps. This is not quite as exciting as online casino dealer technology, but you can normally play for free in demo mode or with play money. It's a great way to learn and experiment, and since there is no dealer you're not bound by any time limits.
Alternatively, it's also both fun and helpful to just watch the online casino dealer table for a while, to get a feel for the flow of the game. You can see how the dealer interacts with the players and how the bets get paid out, and it won't cost you a thing.
Roll The Dice Today
Craps is absolutely perfect for online casino dealer technology.
The addition of the in-game help with bets is really useful for beginners and the interactive element – chatting to the dealer and other players and rooting for specific numbers – is the essence of craps, both online and offline.
Craps is fast, fun and social. Check out our list of recommended sites to start playing online casino dealer craps today.
FAQs about Craps
How do craps work?
Craps is a simple game where you bet on the result of two dice. Depending on the result of the roll, the game follows a particular pattern. There are lots of different bets you can place on each roll.
Which is the best bet in craps?
In purely mathematical terms the best craps bet is the odds bet, which is paid out at its true odds with no house edge.
How do you place an odds bet in craps?
The odds bet can be placed immediately after the Come Out Roll, once a Point Number has been established. You need to place your chips behind your initial bet before the next roll, and you win if the Point Number is rolled before a 7.
Is Online Casino dealer craps rigged?
No. The result of Craps depends on rolling dice so it's impossible to either rig or predicts in advance. In online casino dealer craps, physical dice are rolled by a machine.
Was this content helpful?
Help us improve our content with your ideas.
Thank you for your feedback! We will do our best to improve this content!