|
September 18, 2023
|
Reading time: 9 min
|
Views: 12.3K
When most people think of online casino games, they tend to think of all those classic table games we know and love – the likes of blackjack, roulette, and craps. But that's only half the story at live online casinos.
There are also a growing number of online casino game shows, which feel more like something you would flip on your TV than anything you'd find in Vegas.
Online casino game shows are easily one of the most exciting ways to bet online right now. Let's find out why.
Where Can I Play Live Online Casino Game Shows?
More and more live online casinos are stocking live game shows these days. Software Providers like Evolution are devoting considerable resources to creating new and exciting games, including branded games created in partnership with iconic TV shows, and their popularity is growing.
Look no further than our list of recommended online casino dealer sites for the best places to play live game shows online.
Check out our list and our full casino reviews for more info.
ℹ Advertiser Disclosure
At Betspin.com we put player safety and security first. While we do accept a commission from partners which may affect brand positioning, we are dedicated to only working with trustworthy and reliable operators. All our reviews are written and rated independently of the paying partner and we reserve the right to decline commissions from operators who do not meet our standards. Our list of top live casinos is not comprehensive of every casino operating in the market but is updated continuously with the best and newest brands.
Every online casino that makes it onto BetSpin has been personally reviewed and approved by our team of experts. We only want to send people to play on sites that we would – and have – used ourselves.
How Do Live Online Casino Games Work?
Just like all online casino dealer games, live online casino game shows have a real human dealer – although the word "host" is probably a better description. Just like in regular casino games, the host runs the game, accepts bets from the players, and keeps everything moving.
Depending on the game, the role of the host might change a little, and we're going to read about how specific games work further down the page. Many online casino dealer game shows use a Wheel of Fortune style wheel to hand out prizes, and in this case the host will physically spin the wheel and announce where it lands.
Other games use RNG software, so the host doesn't need to physically use equipment like a wheel or table. Instead, it's their responsibility to keep the energy high, explain how the game is progressing, accept and pay out bets, and more.

Compared with regular dealers or croupiers, game show hosts tend to be particularly upbeat and enthusiastic. Above all, these games are designed to be fun and dynamic, and the hosts reflect this.
Depending on the game, a round in a casino game show game might last anywhere from 30 seconds to several minutes. The host keeps everyone tuned in, and you need to have your bets placed in good time to qualify for the game.
Just like in other online casino dealer games, if you win you get paid out immediately.
You can also chat to the online casino dealer or to other players using the chat box. Since game shows are naturally sociable and upbeat – with everyone rooting for each other to hit the big jackpot – the chat is often a big part of the game.
Even though every game lets you make your own unique decisions –  just as if you were the sole contestant on a game show – online casino dealer game show games have been designed to allow as many people to play as they want.
The host has visibility of how many people are playing, who is betting what, and who is winning, so they can still interact directly with individual people.
Which Are The Best Online Game Shows?
The range of online game shows available at live online casinos is growing every day. There are loads of ways to stand under the spotlight and do your best to take home that big jackpot.
Some people might prefer strategical games, where you need to use your wits to make smart decisions to make the most out of a complex format. Others prefer much simpler games, where it's as simple as betting on which prize a wheel will stop at.
There are games that exclusively use real hosts and physical equipment, where the betting interface is the only virtual aspect of the experience. And then there are games that use a combination of both, so that a real human host makes use of virtual RNG technology to run the games.
In short, there are loads of great online game shows out there and chances are everyone will have a different idea about which is the best.
In the following section, we've collected our favorites among the most popular games out there right now.
Dream Catcher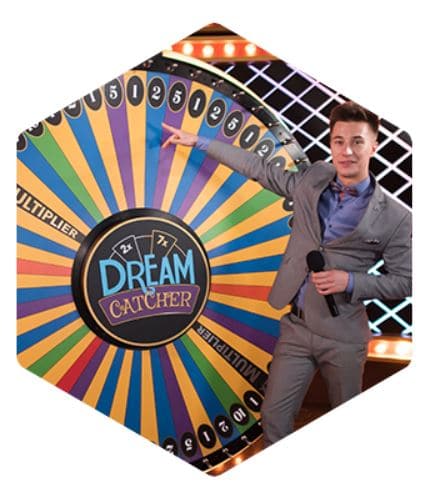 Dream Catcher was the first game show game created by Evolution, and it has a fairly simple format. The whole game is based around a Wheel of Fortune style money wheel. All you need to do is place your bets on which segment you think the wheel will land on. You can place as many or as few bets as you want on every spin.
To make things even easier, the numbered segments correspond to the payout associated with landing on that number. So the number 1 pays out 1:1, 2 pays out 2:1 etc. The highest value number is 40.
As you might have guessed, the frequency with which the numbers appear also roughly correspond to their value, so there are 23 "1" segments and just a single "40" segment.
There are also a couple of special segments which contain multipliers of 2x and 7x. If you land on them, the wheel is re-spun with the multiplier attached.
Online casino dealer games in general have higher stakes than regular virtual casino games, but Dream Catcher can be played from as little as $0.10 a spin.
They don't really come much simpler than Dream Catcher. It's extremely easy to sit down and start playing, and since the game is entirely chance-based you don't really need to learn any strategy.
Megaball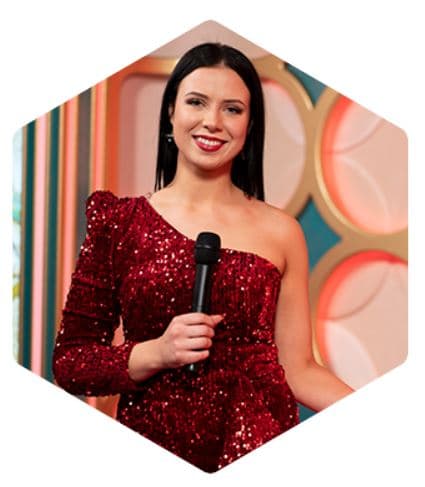 Megaball is inspired by bingo games. A host presents the action, while a lottery machine filled with numbered balls whirls in the background. You need to buy cards, which have 25 random numbers on them. You can choose how much you want to bet on your cards, and buy as many as you want.
Once the bets are in, you just need to sit back and match as the machine automatically draws 20 out of the 51 numbered balls, and you see if they correspond to your cards. Unlike regular bingo, where you need to personally keep track of your cards and mark them off, in Megaball this is all done automatically.
After 20 random balls have been drawn, the host spins a reel which has a variety of multipliers from 5x-100x. Then, one final ball is drawn – known as the Megaball. If the Megaball winds up completing any of your lines, the multiplier is applied to your win.
Depending on how many lines of numbers you end up hitting on your cards, you get paid out. 1 line pays 1x your bet, 2 pays 5x your bet all the way up to 6 lines which pay 10,000x your bet.
Crazy Time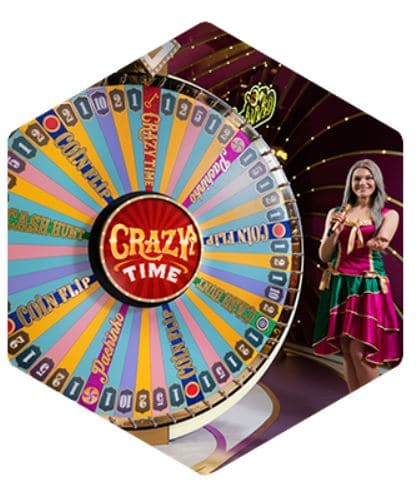 Crazy Time is not a million miles away from Dream Catcher, but ultimately it has a lot more going on thanks to its bonus games. Once again, the game centers around a wheel. You'll place your bets on which segment it ends up on before the host spins the wheel.
The Crazy Time wheel has 54 segments, the numbers 1, 2, 5, 10 and segments for each of the four bonus games. A random multiplier is also added to one segment only before the wheel is spun. If the wheel ends up on the number you bet on, you get paid out.
If it ends up on one of the bonuses, the corresponding bonus game begins. Remember that to qualify to play the bonus game you need to have placed a bet on it. If you didn't have a bet on it, you can watch the bonus play out but not participate.
The four bonuses are below:
Cash Hunt is a straightforward pick 'em game, where you can choose between more than 100 symbols to receive the cash prize hidden behind.
Pachinko involves watching a puck drop slowly down a board to land randomly on one of the prizes below.
Coin Flip lets you flip a coin, one side of which has a random low value win and the other has a random high value win. You get whichever one it lands on.
Crazy Time is the most valuable bonus, and involves another, more elaborate wheel. This time there are three layers to the wheel, including different multipliers, and you earn the prize that wheel ends up on.
Crazy Time is a move towards including more bonus games in online game shows, almost like a slot game, a trend which is likely to continue as technology improves.
Deal or No Deal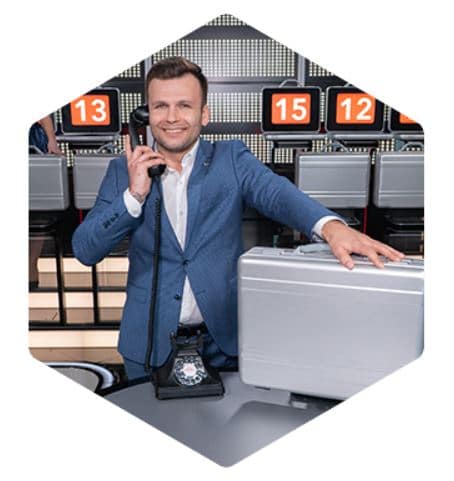 This game is a special edition of the classic TV game show, adapted for online casino dealer technology. It was created by Evolution in partnership with Endemol Shine who produces the show. It's also maybe the most complex of the games in our list.
Unlike the other games, with Deal or No Deal it's not as easy as simply buying into the main game. Instead, you need to qualify first, which you can do via a mini game that runs before the live game starts.
The qualification is entirely virtual, and involves spinning a reel shaped like a bank vault. You need to line up 3 sections to unlock your place in the main game, and every spin costs you money. You can think of this step as like playing a slot exclusively to try to hit scatters, which unlock a bonus game.
Once qualified, there is another bonus round before the main game where you can top up your bets if you want. Each qualifying round lasts 2 minutes, after which the main game begins.
The host and his assistant run the game, which unfolds in the same way as the show. There are 16 boxes, one of which you receive, and each of which has a randomized value inside.
The remaining boxes are then slowly opened at a rate of three or four per turn. In between turns, the banker makes you an offer for your box – effectively an opportunity to cash out early. Your game ends either when you accept an offer or go all the way through the game to open your own box and receive the prize.
Once you qualify to the main game, you are guaranteed to win a cash prize. However, you can end up spending a fair amount of money in the qualification round.
Deal or No Deal is impressively well designed. It's the longest and most involved of any of the live online game shows.
Monopoly Live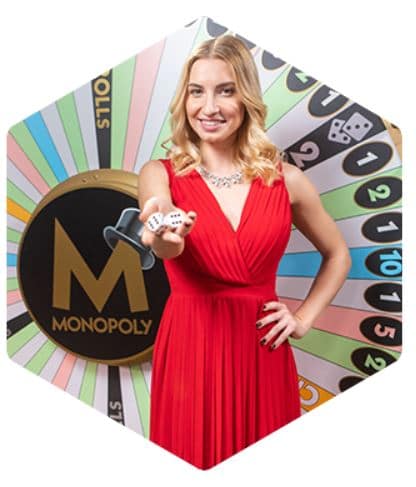 Another branded partnership, Monopoly Live is the official game of the classic board game. This game is all about unlocking the bonus game, which is by far the most valuable and entertaining part of the game.
The regular game is not dissimilar to Dream Catcher or Crazy Time. Once again, you need to bet on which segment the special Monopoly Wheel will land on. You have the numbers 1, 2, 5 and 10 plus four Bonus Round segments. As usual, if the wheel lands on the number you bet on, you win.
There is also a special Chance Card segment, and if you land on that you receive a random prize like a multiplier or some cash.
The host is accompanied by a virtual Mr. Monopoly himself, who sits beside the action and only really gets involved when the bonus game is hit.
Just like Dream Catcher, you need to have placed a bet on the bonus game in advance in order to qualify – otherwise you'll just have to watch. And since it's so valuable, we certainly recommend always betting on it if you can.
Once the bonus game is hit, Mr.Monopoly runs off screen onto a giant virtual Monopoly Board. You get to roll the dice to watch him progress – either 2 initial rolls or 4 initial rolls depending on which bonus you hit.
As he progresses around the board you collect the cash prizes of the streets he lands on, and other spot prizes like multipliers or extra rolls. The game ends when you run out of dice rolls.
Become a Game Show Winner Today
The most exciting thing about online casino dealer game shows is that it feels like there is still so much more to come from the format. With so many iconic shows, movies and games out there it feels the time is ripe for more branded games and more experimentation with the format.
But that's not to say we don't have some amazing options available right now. Check out our list of recommended sites to find the best places to play all the games on this page and more.
FAQs
What Are Online Casino Game Shows?
Game shows are live games that you can play at live online casinos. You can bet and win real money, and the games are hosted by real live people – similar to game shows on TV.
Are Online Casino Game Shows Rigged?
No. Many online game shows use real equipment like a spinning wheel or numbered balls, so the results of the games are entirely random. The best online casino dealer casinos are also independently monitored for fairness.
Can I Play Live Online Casino Game Shows for Free?
No. Normally you can only play Live Online Casino Games for real money. However, you can watch Online Casino Games for free.
How Do You Win at Live Casino Game Shows?
There is no way to guarantee you win at Live Online Casino Game Shows. There is a large element of luck, and the house always has a small edge.
Was this content helpful?
Help us improve our content with your ideas.
2
people found this content useful
Thank you for your feedback! We will do our best to improve this content!