|
December 04, 2023
|
Reading time: 20 min
|
Views: 22.4K
Live dealer gaming brings the live casino to you. Whether you're playing at home on your laptop or on the go using your mobile, live games have obliterated the gap between playing online and real casino gambling.
The best gaming developers around the world – Evolution (Microgaming), NetEnt, Playtech and more – have already turned their attention to live dealer technology, and these days just about every top online casino in the world has a live section.
How Does Live Dealer Technology Work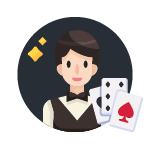 Live dealer games combine traditional virtual betting software with a live video, which lets you play a real game in real-time. Although the technology changes a little depending on what type of live dealer game you're playing, the idea is largely the same.
Through the video feed, you'll be able to watch the real dealer and the game unfold. You can make choices and place bets using the virtual interface – similar to the one you'd find on traditional online casino games.
Your bets are processed and visible to the dealer in real-time. For example, if you're playing live blackjack, the dealer can see whether you've chosen to hit or stand and will deal with your cards accordingly.
If you win, your bets are paid out immediately.
Most of the time live, dealer games are broadcast directly from real casinos. This is one of the things that make the games so appealing – the real ambient noises, the glimpse of other tables and players in the background, the swish of the cards or clicking of the ball.
Virtual casino games have done a good job of re-creating the spirit of the casino, but this is the real thing.
Some live dealer games – generally the non-traditional type games we'll talk about in the next sections – don't come from real casinos but instead from purpose-built sets. These games have something more like a game show or show business feel – a whole new dimension to online gambling,.
Usually, you can chat to other players and the dealer using a chatbox, meaning live casino games are a generally more sociable experience. Having the dealer congratulate you after a big win or offering friendly encouragement to other players is a great addition to the experience.
Dealers
Live casino game dealers are professional hosts, dealers or croupiers – exactly the same as you would find in a physical casino. They tend to be polite, friendly, and professional and run their tables expertly.
Usually, they can see the players' live chat and are happy to chat and interact with players.
Just like in a real casino, players can get superstitious with their favorite dealers and always join their tables. You can even develop cordial and respectful relationships with certain dealers – something that's impossible with traditional virtual games.
Live Dealer Games
In this section, we're taking you through a brief rundown of all the most common live dealer games out there. Some of them, like roulette and blackjack, you'll be sure to find at every live dealer casino. Others are more niche, and may only be found at specific sites.
For all the top games, we've also got full guide pages. Just click on the link in any of the sections to discover everything you need to know about that particular game.
Live dealer technology has meant software developers are able to totally rethink classic casino games, and come up with brand new variations and twists. As you'll see, there are tons of options, as well as multiple versions of lots of the games below.
All the better for us – live dealer games are an amazing way to gamble online and there is a lot to discover.
We even created a new page for the latest hype game Live Slot Games for you! Make sure to check out if you like slots and live games.
Roulette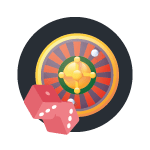 Roulette and blackjack are probably the big two when it comes to online casino games, and their transformation with live dealer technology has been one of the stories of the community in the 2010s.
Live dealer roulette works in exactly the same way as it does in a real casino. The wheel, the ball and the dealer are all real. The dealer gives the players at home time to make their bets, spins the wheel and everyone waits to see where the ball settles.
Players can place bets using the virtual interface, which replicates a real roulette table – exactly the same as virtual roulette. You simply click on the section of the table to place a bet, and if you win your winnings appear in your account immediately.
Live roulette also generally provides users with live statistics, showing which numbers have come up in recent rounds, and things like the frequency of bets during your session. There is also usually an auto-play option, which lets you set up your favorite bets, choose how many rounds you want to bet on, sit back and watch.
Although not always, live roulette is typically broadcast directly from a real casino. This means the ambient sights and sounds – blurry figures in the dimly lit background, the chatter of voices, the clink of glasses – are genuine. Not only is the casino atmosphere real, but you get to be a participant in it.
In audio terms, roulette is probably the game that most improves from the live experience. There is something about the click of the ball as it skips around the wheels that can't fail to create excitement – and live roulette does that much more than a virtual reproduction.
Unlike some other live dealer games, live roulette (at least the standard version) is played in the exact same way as real roulette – the same rules and bets.
Variations of Live Roulette
Roulette is one of the games that benefit from having lots of variations at online casinos, and you can regularly discover more active roulette tables than any other game.
First of all, you can expect to see versions of the big three roulette games: European Roulette, French Roulette and European Roulette.
The three games are very similar with the differences coming in the number of zeroes on the wheel (one in European and French, two in American) and the way some bets are paid out (with slightly better odds on French Roulette).
Next is where things get even more interesting.
Gaming developers like Evolution have figured out that even though live roulette uses a traditional, standard wheel, you can still use technology to add amazing twists to the classic format.
Take Lightning Roulette, which randomly selects a few numbers every spin to be struck by lightning, receiving huge multiplier bonuses in the process. There's Immersive Roulette, which uses multiple HD cameras to show you the game from angles you've never seen before.
The creative variations on roulette have helped to keep the game fresh and exciting for the new live dealer technology.
Below we've listed some of the top live dealer roulette games you can expect to see:
Blackjack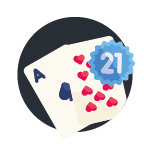 The other heavyweight at online live casinos, live dealer blackjack (like roulette) is largely the same as the physical version of the game.
The dealer, the table, and the cards are all real and visible on the live video feed. There are (usually) seven free seats, just like a real table. To join a game, one of these seats must be free.
Once you "sit down", the dealer will deal with you (and any other players at the table) a hand. The virtual betting interface will appear, which lets you choose whether to hit or stick. The dealer sees your selections in real-time, and deals the cards accordingly.
The game proceeds as normal, and if you win the hand your cash is credited immediately.
Even more so than roulette, blackjack is a game that relies on interaction. While the roulette croupier simply spins the wheel, in blackjack you are effectively playing "against" the dealer.
Plus, with live dealer roulette there could be hundreds of people playing at once. If you're sitting at a live blackjack table, you have a two-way line directly to the dealer.
This makes the direct contact of the live camera all the more appealing. You can chat to the dealer, just like a regular blackjack table, as well as the other players. You also get to keep an eye on their cards.
Lots or live blackjack tables let players "bet behind", which means that even if there isn't a seat free you can still play. Betting behind basically involves betting on a player who is seated at the table, and anyone can do it regardless of whether there is a free seat or not.
Betting behind is a great option to have – although it does mean you're kind of at the mercy of what the other player decides to do.
Variations of Live Blackjack
Live dealer technology has also been a revelation for imaginative new versions of blackjack.
By its nature, blackjack has a limited number of players – usually 7 – and if there is no seat free you can't play (although you can still bet behind). Some of the most popular live dealer versions of blackjack have sought to address that.
Infinite Blackjack from Evolution has combined real cards with virtual dealing technology to create a version of live blackjack that a limitless number of people can play together. The dealer deals out just one hand for themselves and one for the players – all the players.
Everyone begins with this same one hand, but they can play it however they want. The dealer takes a note of all the actions, and plays the hand out accordingly. If necessary (diverging decisions from players) virtual software may kick in to provide your cards.
It's a great way to democratize blackjack, and to get everyone playing together. The live chat is still in operation, and the dealer can chat to all the players.
Other blackjack variations modify the deck (removing 9s and 10s for example) and/or change the betting action (triple or quadruple downs in play). Interesting side bets are another variation. Some have even simpler twists – like Speed Blackjack which lets each player act as soon as they are ready and makes the whole game faster.
Below, we've listed the most popular blackjack variations you can find.
Poker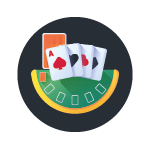 Unlike blackjack and roulette, live dealer poker tends to be a bit more of a departure from the traditional game. For one thing, you generally aren't playing against other players.
Instead, as in video poker, you're playing against the house. The dealer follows a set pattern for their hand, and you need to hit a certain value of hand to beat them – more like blackjack than traditional poker.
The real dealer will deal out your cards, their own cards and the community cards. You can choose to fold, bet or raise on each street (depending on the variant), and your goal is to make a better hand than the dealer (whose one card you can see).
Variations of Live Poker
Like roulette and blackjack, there are lots of different variations of live dealer poker. Generally, live dealer poker feels a little strategic than regular poker, and more random – almost like a slot game at times.
Some of the variations really lean into this, with things like progressive jackpots, fun side bets and exciting bonuses.
Below you can see some of the different variations.
Baccarat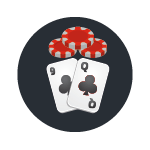 Baccarat translates excellently to live dealer casinos. The gameplay is basically just the same as in a real casino, and since you're still playing against the house there are no major differences you need to get used to.
Live dealer baccarat is fast and requires concentration, but no more so than regular baccarat. In fact, the live version often contains live statistics and in-game help to make your life even easier.
In addition to the standard live version, there are other variations out there with speeded up gameplay, interesting side bets, imaginative camera angles and more. Some of them are listed below.
Sic Bo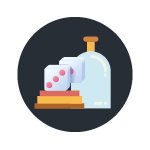 Now we're starting to get into the slightly less commonly available games. In truth, live dealer sic bo is still fairly widespread – just not as much as the likes of roulette or blackjack.
Sic bo is enjoyably simple. If you have concerns about playing overcomplicated games at live dealer casinos – or for players less comfortable with live streaming technology – sic bo is a great option.
There are even some souped-up versions out there with special multiplier bets and bonuses.
Super Sic Bo
The beauty of playing real casino games online is that, if the designers want to take advantage of digital technology to inject a little something extra in the games, they have the opportunity.
Super Sic Bo is a great example of this. It plays very similarly to regular Sic Bo, with players betting on the outcome of the roll of three dice. You have all the same betting options, with loads of different ways to predict the outcome.
The twist comes with the addition of some RNG technology. Every spin, several bets have the potential to be randomly chosen to receive a multiplier, worth up to 1,000x. If your bet gets randomly chosen and you win, the multiplier gets added to your payout.
It's an extra layer of excitement, since you never know where or when the multiplier will land, and it also means your potential payout gets much larger.
Craps
The craps table is usually one of the noisiest and funnest in the whole casino, so at first glance you might think it isn't the most well suited for the online world. However, the community atmosphere at live dealer tables and the ability to chat to the other real players live means craps makes a lot of sense at live dealer casinos.
Craps is a fast paced game. Just like in a real casino, the croupier runs the game and accepts bets from players in real time. Normally the players themselves actually get to the roll the dice, but obviously not in this case.
For beginners, craps can be a complicated game. Even though you're only betting on the outcome of two dice, there are a lot of different bets available. With live craps, there are a lot of helpful in-game features that make it even easier to play.
There is a built-in help section that explains exactly how each bet works for example, as well as a tutorial to explain the game to total newbies. You also have the My Numbers feature, which shows you how much is riding on each bet and what the payouts are for every single possible number to be rolled.
There is even an Easy Mode, which simplifies the betting options. All in all, live craps is a great game to play online and the helpful additions will be very welcome for those who are new to the game in particular.
Keno
Keno works great at live dealer casinos. A big part of the fun of the game is watching the balls whir around before one is drawn out, and waiting to see if you get lucky. Virtual keno games work perfectly, but there is a physicality to the game that makes the live dealer version more satisfying.
The combination of the real balls with your virtual scorecard is really visually impressive too.
Bingo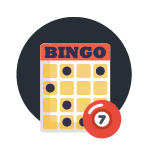 Similar to keno, more and more live dealer casinos are introducing other types of bingo games for the same reasons outlined above.
Bingo games are naturally fun and interactive, with less of an emphasis on skill and more on the thrill of getting lucky. The dealers tend to be particularly friendly and talkative too.
Live casino bingo games are laid back alternatives to the slightly more serious business of strategical casino games. Which is absolutely the same for our next category
Slots
Of all the most popular games in physical casinos, slots are arguably the least well suited to the live dealer casino. For one thing, they are by nature entirely virtual already. Unlike the likes of blackjack and roulette, casino slots rely on RNG technology anyway, and they are played on a computer screen.
There is a great selection of virtual slots at just about every online casino. with hundreds of titles available from top software providers like NetEnt, Red Tiger Gaming and Microgaming. Starburst, Megaways games and Mega Moolah are just some of the most popular slots that you can find at casinos around the world.
Most modern slot machines don't even incorporate a physical arm to pull. If they are entirely virtual already, why would you incorporate slots into your live casino?
In fact, live casinos have done a great job reimagining the slot format for the platform. Live slot games have all the fun random elements as the virtual games, but adapted to live dealer technology.
Unlike many live dealer games, there really isn't much of a strategy when it comes to live slots. Instead, it's about sitting back and hoping you get lucky.
Live Slot Games
While traditional slots are based around lining up similar symbols across reels placed side by side, live slots are a little different. Normally, instead of reels, the dealer spins a physical wheel to determine the results of the game.
The wheel can have all kinds of outcomes – multipliers, scatters, re-spins, spot prizes and more – just like you might find in a regular slot game. You will normally have different betting options, so that the more bets you place the more chances you have to win.
Slots have historically been the most popular games at online casinos, and the development of live dealer slots has meant that you can find many of the same classic games updated for the new platform.
Gonzo's Live Quest is the perfect exemple. It's the first live edition the legendary series of slot games featuring Gonzo searching for golden treasures. The live update takes the spirit of the original series and paires a virtual Gonzo with a real dealer, for an exciting hybrid.
Live Game Shows
Live dealer games naturally place a premium on fun, high energy communal gambling – in a way that traditional virtual online games can't really emulate. This is a big reason why Live Game Show games have become so popular.
With these types of live casino games, you become the star of the show. The direction the game goes depends on you and your decisions – very much as if you were a contestant on a TV game show.
With these games, the dealer is in actual fact more of a host. The atmosphere is one of upbeat excitement, and the players are typically quite friendly and expressive in the chat.
Game show games are designed so that unlimited people can play at once and make their own unique decisions. Often, if it reaches a point in the round where you are no longer taking part (because you declined to bet, or didn't qualify for example), you'll have to watch the game finish out for the other players.
Some of the best live dealer games are sponsored partnerships with real game shows, like Deal or No Deal, or with other types of games, like Monopoly Live. In both of these games, the format mirrors how the games play out in real life. There is a virtual monopoly board that you get to move around to win prizes in Monopoly Live. In Deal or No Deal, you receive real offers from the banker to cash out your box, just like the show.
Gameshow Games / Boardgames / Sports Themed Games
Moving further away from classic casino games, more and more live dealer providers have begun to create games inspired by classic TV gameshows, family-favorite board games, and even sports-style games.
Look out for Wheel of Fortune style wheels that let players spin to determine what their prize is, or the ability to choose secret prizes hidden behind doors or inboxes. Some shows – like Deal or no Deal for example – have even their own special live dealer editions.
There are also twists on board games like Monopoly, and fantasy-football style sports betting games.
The "dealers" in these types of games are in reality more like hosts, and the games, in general, have more of a show feel – perfect for when you want a break from the serious concentration required for some casino games.
Live Casino Bonuses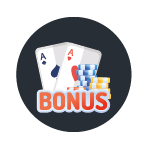 All online casinos typically have welcome bonuses for new members. It could be a no-deposit bonus (which gives you a small amount of totally free cash) or a deposit bonus (which matches all or part of your first deposit with bonus cash for example.
These days lots of casinos even have special promotions aimed specifically at live dealer games, to encourage users to try them out.
For a full overview of the type of bonuses, you can find at live dealer casinos, head over to our bonuses section.
Live Casino on Mobile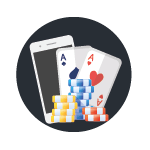 Today, the majority of online gambling is done via mobile, and live dealer games are going in the same direction.
The best live dealer providers design their games especially for both the laptop and the smaller screen, with intelligent technology that adapts to whatever device you are using.
Lots of live casinos have their own mobile apps, or have at least optimized their site for mobile access.
For more a full rundown of mobile live dealer gaming, check out our mobile apps section.
How to Choose the Best Casino Games
Picking a live casino game to play is a different experience for everyone. Every player has different preferences, not least with what type of game they want to play.
Traditionalists and seasoned casino players will likely gravitate towards classic table games: blackjack, roulette, baccarat or craps for example. If you want a little twist on the classics, you can also find versions of these games that incorporate extra bonuses using digital software, like Lightning Roulette for example.
For players who really want to lean into the live dealer technology and try something new, game show games and live slots are a great option. Unlike the table games, these are experiences that you just won't find in the brick and mortar casino.
After choosing your game, you'll need to think about stakes. Live dealer tables typically have slightly higher stakes than regular virtual games, especially in games like blackjack which have limited table seating.
Deciding which site to play at is important too. You'll want somewhere with excellent security, reliable customer support and dependable banking options. We can help with all of this. Our reviews cover all of this and more, and they are the perfect jumping off point before deciding where to play.
Best Casino Games Strategy
Some games have totally fixed odds which can't be affected by strategy at all (like roulette), while with others you can improve your chances with smart play (like blackjack). But like we said in the last section, there just aren't really any strategies that can guarantee you will win in the long run, regardless of the game.
The casino is always going to be a slight favourite, and come out ahead over a long period of time.
You can and should focus on the controllables however, like bankroll management.
Being disciplined with your budget, staying in control and only betting what you can afford is an essential component of being a successful gambler. You can't guarantee winning, but overbetting is a sure fire way to ensure you lose.
Managing your time efficiently is also very advisable. Avoid playing when you're tired, and take breaks during long sessions.
We also advise taking it slow when it comes to new players gambling online, especially with unfamiliar games. Playing for free money to get the hang of things is smart.
Watching live dealer tables without playing is also great for getting a feel for the flow of the table.
Jumping into a game you don't understand and betting real money right away is a recipe for disaster.
Ultimately, the best casino game strategy involves being measured, disciplined and in control at all times.
Table Games with Best Odds
If you're looking for pure value and want to give yourself the mathematically best chance of winning, there are certain games you will probably gravitate towards. A lot of it comes down to RTP, or Return To Player.
Every game has a built-in RTP and it refers to how much of the money that is gambled on the game is eventually paid out in wins. There is a house edge in just about every game that ensures the casino wins in the long run, and the lower the edge the higher the RTP.
For example, every bet on the roulette table has an RTP of around 97.30% (for European roulette) or 94.74% (for American roulette).
If you're looking for the highest RTP in the live casino, blackjack is always a good shout – but only if you are playing correctly. An optimal playing strategy can push the RTP up to as high as 99.5%. However, bad strategy makes it drop considerably.
There is also a single bet on the craps table, known as the odds bet on the pass line,which is paid out at its true odds, with no house edge.
At the end of the day, gambling at a live casino is as much about the fun as making money, and there is no way to guarantee winning every time. But it's still worth keeping an eye on the RTP of the games you're playing if you really want the best shot, which you can normally check by searching for the game.
How do I Choose a Live Dealer Casino?
There's not really any "correct answer" when it comes to choosing a live dealer casino. Each one is a little different and will suit some players more than others.
The first step is to figure out what you're looking for.
If you already know which live dealer games you're interested in playing, head to our bonuses section to decide what kind of bonus you should look for. Think about whether mobile gaming is a priority for you. Check out our live casino banking section to see what kind of payment methods work for you.
When you have a set of criteria in your head, we can help.
We've put together a list of some of the best live dealer casinos available online. Each one may be unique, but what they have in common is the fact that our experts have personally tested and verified each one.
Check out our reviews and get to know each of our recommended sites, bearing in mind what you're looking for in a live casino. Whichever one you choose, we're certain you're going to have a great time.
Top Casino Game Providers
There are thousands of software providers out there, all competing with each other to create the best online casino software. Live dealer software providers are a slightly smaller subsection of these, which focus on designing and managing live dealer games.
When it comes to live dealer games, Evolution is widely considered to be one of the top software providers. The company was originally known as Evolution Gaming, but shortened its name in 2021. 
Evolution has around 15 years of experience in the industry, having been founded in Riga, Latvia in 2006. Often with live dealer providers, live games are just one part of the casino software produced, along with classic virtual slots, blackjack and more.
Evolution on the other hand was exclusively dedicated to live dealer software from the beginning, which really helped the company stand out from the competition.
Evolution has a reputation for creating slick, forward thinking live dealer games. In addition to classic table games like roulette and blackjack, Evolution has a diverse selection of branded games, live slots, game show games and many more.
Other popular live dealer software providers include Microgaming and NetEnt, the latter of which merged with Evolution in 2020.
FAQ
What are live dealer games?
Live dealer games let you play real games with a physical table and a real dealer via a high definition video feed in your home or on your mobile. Live dealer games are generally broadcast directly from a real casino.
Can I talk to the dealers?
Yes, via a live chat box. Both the dealers and the other players can see what you write as you play, and they can respond in real time.
Can I play live dealer games on mobile?
Yes. Most of the top software developers for live dealer games have designed their games to be mobile compatible, so you can play wherever you are. Depending on the casino, you may be able to download an app or you can play in-browser.
Which is the best live dealer game?
It depends on what you like! Roulette and Blackjack are the two most popular live games, and there are lots of innovative variations of the two that have been especially designed for live dealer technology. You can also play games like video poker, baccarat, keno, bingo and even game show games.
Was this content helpful?
Help us improve our content with your ideas.
5
people found this content useful
Thank you for your feedback! We will do our best to improve this content!