|
December 04, 2023
|
Reading time: 5 min
|
Views: 6.3K
Best Online Casinos with MuchBetter
BetSpin offers a truly diverse range of services. A few examples include device pairing recognition biometrics for security, dynamic CVV technology on the MuchBetter credit card, a unique gifting option to send funds to friends and family, as well as loyalty programs and weekly contests/giveaways for the MuchBetter community of users.
ℹ Advertiser Disclosure
At Betspin.com we put player safety and security first. While we do accept a commission from partners which may affect brand positioning, we are dedicated to only working with trustworthy and reliable operators. All our reviews are written and rated independently of the paying partner and we reserve the right to decline commissions from operators who do not meet our standards. Our list of top live casinos is not comprehensive of every casino operating in the market but is updated continuously with the best and newest brands.
As an added bonus for European customers, the company offers free prepaid MuchBetter Mastercards to use both on and offline as well as a unique MuchBetter contactless NFC key fob. As if all of that wasn't impressive enough, MuchBetter has partnered with Swiss watch company Winwatch to create a luxury wearable wristwatch that also offers contactless payments at vendors via the MuchBetter e-wallet.
The variety of services is very impressive – but MuchBetter is also perfect if you just want to use it to top up your online casino account.
The e-wallet does everything you need and all at your fingertips on your phone for both online and in real-world use cases.
In this article, we will explore all of the finer details of MuchBetter.
How to Deposit Using MuchBetter at Online Casinos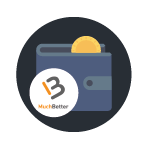 MuchBetter is very easy to use and set up. The first thing you need to do is download the app. You can find a link directly on the MuchBetter website or search for MuchBetter in the App Store for iOS or the Google Play store for Android.
Registration takes just a few moments and requires basic personal information including full name, email, address and phone number. The phone number is important because they will use this to send you a verification code later on in the process. You will also be asked to create a 4-digit passcode. Choose something that you will remember and is not too simple to guess. We don't recommend using your own birthday, for example.
MuchBetter will also request a photo submission and a copy of valid identification to verify and validate your account. This verification will simultaneously unlock extra features on the app that you can read more about on their site or directly on the mobile app.
Once verified you will be able to load funds onto your new wallet by clicking Top Up. Funding is available via credit card, debit card, or directly through your bank account.
Follow the instructions on the app to complete the process. Funding with your bank account will include a code sent to the phone number you used in registration.
Once the funds have been transferred to the MuchBetter wallet, you are all set to top up your online casino account.
Simply head to the casino's banking section and find the deposit button, choose MuchBetter as your payment processor preference, and follow the onscreen instructions. They will ask for your phone number and send you a verification code. This will prove your identity and verify you.
Once you've completed this and submitted the amount you wish to deposit you are good to go, and you should find the funds in your account within seconds. If you used a BetSpin promotional bonus for your casino registration you should find the bonus balance in your account already waiting for you as well.
MuchBetter Processing Fees at Online Casinos
From the online casino end, the vast majority of sites don't charge any fees for using MuchBetter. That being said, we still encourage all players to check with the casino first so as to avoid any unwanted charges.
As far as fees go on the other end, MuchBetter has very competitive rates. They charge differently depending on what loading method you select. Fees range from free up to 8%. All of the pricing details are available on MuchBetter's website.
For withdrawals onto a bank card, fees reach a maximum of 2.5% and can incur a flat fee for Interac e-transfers or wire transfers depending on your location. Specific details of this are available in the same section of the website.
MuchBetter is not entirely free of fees, but they are certainly on the low side.
How to Withdraw with MuchBetter at Online Casinos
After winning big on the live tables, you'll want to cash out some winnings. Doing so is just as simple as the deposit process. In the banking section of the site click on the Withdraw button and choose MuchBetter as your payment processor.
You will be asked to input the amount you'd like to cash out and enter your phone number. It's a very easy process.
Once your funds are back in your MuchBetter wallet, you have two options. You can either withdraw them, which will incur a small percentage fee or you can just leave them in your wallet. We like the second option since you can use your MuchBetter account to pay for other things online anyway.
Muchbetter Processing Times at Online Casinos
Depositing from MuchBetter to your online casino is nearly instantaneous. As mentioned before, if you used one of our BetSpin promotions for added account value you will also see the bonus balance just as quickly.
Processing times for cash-outs depend on the casino. Most casinos process digital wallet cashouts between 24-48 hours. This is industry standard, but you can also find casinos that offer even quicker withdrawals.
We recommend checking the withdrawals times in advance, to avoid any unexpected delays.
Advantages & Disadvantages of MuchBetter
Advantages of Using MuchBetter at Online Casinos
One of the top-ranked payment processors for security
Competitive rates for fees and no charge for download or sign up
Several incredible perks and innovations for both online and offline spending/saving
Great speed for depositing and withdrawing
Beautiful app design with excellent user experience and user interface
Disadvantages of Using MuchBetter at Online Casinos
Not available in every country
Different loading and withdrawing options can be expensive if you need to use unorthodox methods or currency exchanging
MuchBetter is an Industry Leader
In just three years on the scene, MuchBetter has won multiple awards including Most Innovative Mobile or Financial Service Payments Solution (Emerging Payments Awards 2019), Best Alternative or Digital Payments Programme (The Card & Payments Awards 2019), Best Start-Up Innovation Award (MPE Awards 2019), and Rising Star Winner (EGR B2B Awards 2018).
Accolades like these aren't easy to achieve in such a short amount of time. It's clear that MuchBetter knows how to build a product and appeal to a wide audience.
"What we do is we allow MuchBetter customers who have the app to create their own, new personal IBAN within the app. We give players the option for the IBAN to be associated with their MuchBetter account, or any of their gaming accounts with the operator."

–Jens Bader, Investor & Founder
MuchBetter is more than just a payment processor. The sheer range of services on offer, as well as the way the company looks after its community of users, really makes it stand out from competitors. We love the loyalty program, and the app is very well designed.
When it comes to funding your online casino, MuchBetter truly is an excellent option – even more so as a way to manage other payments you might like to make online.
Head over to our reviews of the top MuchBetter casinos to find the best place to deposit via MuchBetter today.
Our favourite MuchBetter casinos are:
Other Payment Methods iDebit
Make deposits instantly
Widely accepted
High security & anonymity
Private statements

Paysafecard
Available in 50 countries
Personal information safety
Easy to manage your funds
Fast processing times Interac
Quick and secure
Your data is safe
Low fees
Layered security

Paypal
Super fast platform
Cheap transactions
Both deposits/withdrawals
Secure and private
FAQs
What is MuchBetter?
MuchBetter is a downloadable app that allows users to send and receive online payments
Can I withdraw funds using MuchBetter?
Yes. MuchBetter is a great option for both depositing and withdrawing.
Are there processing fees for using MuchBetter?
Online casinos will rarely charge fees for depositing or withdrawing via MuchBetter. Loading or cashing out from your MuchBetter wallet to your bank account may incur fees, depending on the payment method. The website has all the specific details readily available.
Is MuchBetter fast and safe?
Yes. MuchBetter processes payments very quickly, securely, and efficiently.
Was this content helpful?
Help us improve our content with your ideas.
Thank you for your feedback! We will do our best to improve this content!