|
September 18, 2023
|
Reading time: 6 min
|
Views: 6.3K
Thanks to improvements in modern technology – and some incredible design work by software providers like Evolution Gaming – you can now play real casino games run by real dealers live from wherever you are in the world.
So far, the majority of live dealer games out there have been variations on casino classics like blackjack and roulette. Since they use physical hardware (like cards and a roulette wheel), they are perfectly suited to the technology and offer something a little more exciting than simply playing virtual casino games where all the action is computer generated.
Right now the most popular one seems to be Gonzo's Treasure Hunt with a high win rate!
Mermaid's Fortune from Evolution Gaming was one of the very first live dealer slot style games, and the company has continued to diversify its catalogue over the years. Today there are plenty of similar live games of chance on its books, from Crazy Time to Mega Ball.
As live dealer software gets more advanced and popular, the number of casinos offering live slots is only likely to grow.
For now, you can take a look at our list of recommended live dealer casinos that feature live slots on their books.
We only include the very best sites, which have been personally tested out by our team of experts. We never recommend you play on any site that we wouldn't – and haven't already – played on ourselves.

LeoVegas Casino

Playzee Casino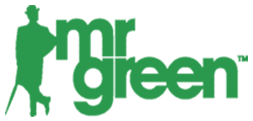 Mr Green Casino
ℹ Advertiser Disclosure
At Betspin.com we put player safety and security first. While we do accept a commission from partners which may affect brand positioning, we are dedicated to only working with trustworthy and reliable operators. All our reviews are written and rated independently of the paying partner and we reserve the right to decline commissions from operators who do not meet our standards. Our list of top live casinos is not comprehensive of every casino operating in the market but is updated continuously with the best and newest brands.
But what about slots?
For years, virtual online slots have been the most popular games at online casinos. Now, they are becoming increasingly available at live dealer sites too.
As you might imagine, live dealer slots differ in several ways from traditional virtual slots, and on this page we've got the full story on how they work.
We cover everything you need to know, including:
Live Dealer Games are the most exciting way to play at online casinos right now, and Live Slots are the next big thing. Let's find out why.
What Are Live Dealer Games?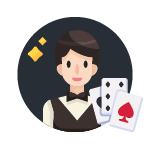 Live Dealer Games are real casino games that you can play online. They feature a real dealer who uses real physical equipment – like cards, tables, wheels and dice. The action is broadcast live via a video feed, and players can bet using virtual betting software.
This is significantly different to traditional online casino games, which are entirely virtual and use a Random Number Generator (RNG) to determine the outcome of the games. With Live Dealer Games, the outcome is determined by the randomness of the physical equipment – just the same as in a real brick and mortar casino.
For example, live dealer roulette has a real dealer who spins a real roulette wheel with a real ball. Wherever the ball lands, that's the winning number.
With Live Dealer Games, the only thing that is virtual is the betting software. You can place bets by clicking on the table or dragging virtual chips, similar to classic online casino games. But the actual game is totally real.
Your wins are paid out and appear in your account in real time, just like in a casino.
Live Dealer Games also have a chat function, which lets you interact with both the dealers and the other players.
Dealers are a crucial part of live casino games. They run the games, deal the cards and roll the dice – all the while keeping track of the different bets and chatting to players. In short, they are real professional dealers, just like in a casino.
Live Dealer Games are the closest you can get to playing real casino games at home.
How Do Live Slot Games Work?

You might be asking where slots fit into all of this.
And it would be a good question; after all, modern casino slots are already virtual and don't require a dealer to operate.
This is true, which is why live slot games are a little different.
With traditional slots, you choose your bet size and then spin the virtual reels. Depending on how the reels end up, you win or lose your bet – or trigger some other bonus.
With live slots, the virtual reels are replaced by a physical wheel, similar to Wheel of Fortune style games. The wheel generally has lots of different outcomes on it, so depending on where it lands you can win different amounts, trigger multipliers or bonuses or lose – just like with classic slot games.
Also like classic slots, every spin is random and unique.
All you need to do is choose your bet size and sit back and watch the dealer spin the reel. Just like other Live Dealer Games, if you win you get paid out right there.
There is no limit to the number of people who can play a Live Slot at the same time. Everyone makes their own unique bets, and the same spin determines the outcome for everyone.
The dealer brings a new fun and interactive element to proceedings. Live slots are more sociable than the old school variety, with the dealer happy to keep the energy up and chat to the different players.
In this way, Live Slots are halfway between traditional slots and a gameshow style game (of which there are many more live dealer varieties).
Live Slots vs Regular Slots
Live Slots come with pros and cons compared with traditional slots.
In the pro side, they are much more sociable and communal – more like standing around a craps table than watching reels spin. Old school slots can be quite a solitary experience, performing the same action over and over again and only playing on a single machine alone.
With live slots, everyone is playing together. You can chat to your fellow players and the dealer. The dealer is looking to foster a good atmosphere too, keeping the energy up, getting excited at wins, congratulating players. It's arguably more fun than traditional slots.
The novelty of the technology shouldn't be underestimated either. Having your own personal dealer, playing using a real wheel, the glamour of the live studio – it all feels like a new and exciting way to gamble online.
But there are arguably a few cons as well.
For one thing, live dealer slots are always more expensive to play the regular slots. If you like your micro stakes games, it's possible you'll be priced out of playing live slots.
If you're a slots purist, you might not like the new format. Different live slot games vary in how they are set up of course, but for the most part they are not really the same as classic slots in a traditional sense.
Similarly, if you love the graphics and animations of slots – along with the special bonus games and 3D effects of modern slots – you might be disappointed with live slots.
Live Slot Bonuses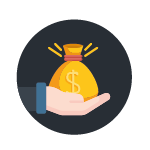 Live dealer casinos are just like regular online casinos. They are always in the market for new players, and looking for ways to advertise themselves to as many different people as possible.
The main way they promote themselves is with bonuses.
New players to a live dealer casino can always expect a Welcome Bonus. Often, this will be a Deposit Bonus where the casino matches some or all of your first deposit with bonus cash.
There are also No Deposit Bonuses, where the casino will give you a smaller sum of bonus cash absolutely free, just for signing up.
Once you've received some bonus cash as part of a promotion you can take it to the live dealer tables, and try to complete the wagering requirements. You'll need to gamble with the cash a certain number of times before it becomes regular money that you can withdraw.
For more information, you can head over to our full page guide to the different bonuses you can find at online live dealer casinos.
Live Slots Are The Future
Throughout its history, online gambling has been in a constant state of evolution and innovation. From broadband to e-wallets, mobile gaming to live dealer tables, it seems like the industry is always innovating and finding new exciting ways to play casino games online.
Live Slots might just be the next big thing.
They combine a lot of what everyone loves about casino games: the sweat of watching where the reels will end up, the potential for jackpot wins, the communal atmosphere of playing together with other people, the assurance of playing a game being run by a professional.
We're excited to see where live slots go in the future, but for now there are some great options ready and waiting for players.
Check out the list of our favorite sites so you can start playing today.
FAQs
What are Live Slots?
Live slots are live dealer versions of online slot games. After you decide on your bet size, a real dealer spins a wheel or reel to determine the results of the game. There are different possible outcomes and bonuses, and you get paid out in real time – just like virtual slots.
Are Live Slots safe?
Yes, live slots are totally safe and fair as long as you are playing at a licensed and regulated casino – like the ones we recommend.
Can I get a Live Slot bonus?
Yes. Every casino offers bonuses and promotions to encourage players to sign up and play.
Was this content helpful?
Help us improve our content with your ideas.
Thank you for your feedback! We will do our best to improve this content!