|
December 04, 2023
|
Reading time: 6 min
|
Views: 6K
The wheel has a series of 6 numbers on 54 equal-sized segments. The numbers include 1, 2, 5, 10, 20 and 40, and players simply bet on which one will land. And, you guessed it, the higher the number the higher your payout.
Dream Catcher is a really fun and exciting change to the standard live casino games. Waiting for the wheel to stop spinning will have you on the edge of your seat.
On this page we have everything you need to know about Dream Catcher Live, including:
What are we waiting for? Let's dive right in.
Where Can I Play Dream Catcher?
Dream Catcher is a popular game. Evolution Gaming is the company behind the game, who have a deserved reputation for creating some of the most innovative and exciting live dealer games around.
ℹ Advertiser Disclosure
At Betspin.com we put player safety and security first. While we do accept a commission from partners which may affect brand positioning, we are dedicated to only working with trustworthy and reliable operators. All our reviews are written and rated independently of the paying partner and we reserve the right to decline commissions from operators who do not meet our standards. Our list of top live casinos is not comprehensive of every casino operating in the market but is updated continuously with the best and newest brands.
Evolution often goes that extra mile compared to some of the more average software providers, like with creating more game variations and special sidebets.
For the best casinos that offer Dream Catcher, check out our list of recommended sites above. The sites that we recommend have all been tested by our Betspin experts and come highly recommended.
What is Dream Catcher?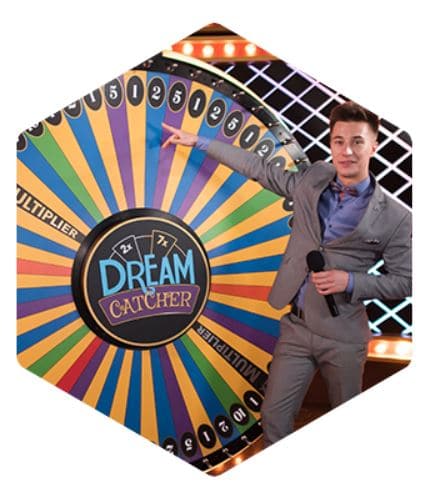 Dream Catcher is an online live casino game that involves a real dealer spinning a real wheel.
This game is broadcasted in high definition video so you don't miss any of the action, with a variety of different camera angles that keep you right in the thick of the action.
Playing Dream Catcher is as simple as guessing which number the wheel will stop on. If you guess correctly your account is credited with your winnings immediately, just like any other live casino game.
The chat function allows you to converse with other players and the dealer, who can interact with you as the wheel spins.
This game is perfect if you are looking for something that will transport you right to the excitement of the casino floor. It's fast, fun and just about the easiest to play live casino game out there.
Variations of Dream Catcher
Dream Catcher comes from Evolution Gaming, and it's the first title in their Game Show category of games. The series is full of excellent games, perfect for brand new players who want to get into live casino games but aren't experts on classic table games, or for those who just want to try something different.
These games are ultra simple, with a premium on fun.
There are plenty of other wheel-based live casino games out there, both from Evolution and beyond. Depending on the game the betting pattern, bonuses or payouts might change but the idea remains the same. Pick the right number and you win!
Similar games include:
Adventures Beyond Wonderland
Mega Wheel
How to Play Dream Catcher
Playing Dream Catcher couldn't really be much easier. The game revolves entirely around luck with no strategic skills needed to play. For this reason, it's likely to appeal to fans of slot machines as well as game shows.
To play, players choose the number they think the wheel will land on. The options are 1, 2, 5, 10, 20 and 40. If you choose the correct number, the payout corresponds to the number. So number 1 pays out 1 to 1, number 2 pays out 2 to 1 and so on. The full breakdown is below:
There are 23 segments featuring the number 1 with a payout of 1:1
There are 15 segments featuring the number 2 with a payout of 2:1
There are 7 segments featuring the number 5 with a payout of 5:1
There are 4 segments featuring the number 10, with a payout of 10:1
There are 2 segments featuring the number 20 with a payout of 20:1
There is 1 segment featuring the number 40 with a payout of 40:1
The wheel also contains bonus segments to make things even more interesting, including 2x and 7x multipliers.

If it stops on either of these multipliers, the wheel will spin again. If you successfully land on your number on the second spin, your wager will be multiplied by the outcome.
If you land on consecutive multipliers they stack up – so the multiplier is multiplied by the multiplier. This keeps going until you finally land on a number –  meaning you end up with some incredibly large payouts.
A great thing about Dream Catcher is that you can enjoy it with a minimum bet of 10 cents and a return to player percentage that ranges from 90.57% through 96.58%. It means the game is accessible to all types of players and bankrolls.
Dream Catcher Bonuses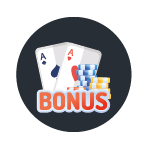 The bonuses up for grabs at live dealer casinos are usually reserved for new players signing up. Some sites also offer special bonuses for accumulating points, or playing regularly.
If you end up claiming some bonus cash as part of a promotion, you should be able to take it to the live dealer tables, including at Dream Catcher.
That said, always be sure to read the fine print on your bonuses. Sometimes certain games (even live dealer games) can be excluded. And of course, there's always the wagering requirements to be aware of with bonus cash.
You can read more about how live Dream Catcher bonuses work, including welcome bonuses and on-running promotions, in our live casino bonuses section. We've also listed the most common below.
Welcome Bonus
This is the type of bonus you will see the most. The vast majority of live casino sites offer some sort of welcome bonus to new players.
The typical one is matching your initial deposit up to a certain amount. This allows you to double your money, letting you play longer or bet higher. The winnings from this though won't be accessible until you've used the money to bet a certain number of times.
No Deposit Bonus
For some people, these are the most valuable of all bonuses. This is where the casino gives you a small amount of bonus cash to use at the casino, with no need to use any of your own money, all for just creating an account.
You can play and win real money, but typically to withdraw any of the winnings you'll have to complete some quite high wagering requirements.
Regular Promotions and Other Bonuses
These are the bonuses that keep the returning players coming back. Sometimes they offer weekly or monthly free bets, or enhanced odds on a certain day.
There are also VIP and loyalty programs which allow you to earn and redeem points that can be cashed in for prizes or other promotions when enough have been accumulated. You can read more about all these bonuses and more in our bonus section.
Dream Catcher on Mobile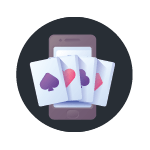 What's great about the best online casino sites is that you can play anytime and anywhere, and on pretty much anything. Your phone, tablet, laptop and computer all give you access to the best and most exciting games available.
Dream Catcher is a game you can play on your phone just as easily as on your desktop computer. It has been optimized to play on a smaller screen, and the video feed and betting software works like a charm.
While not every single casino has an app just yet, it's only a matter of time before you will be able to access your favorite live games this way.
Be sure to head over to our live casino apps section for more details.
Tips and Strategy
Unlike lots of live dealer games, Dream Catcher is a game of pure luck – so no strategy to learn here as such. But even with simple games of chance like Dream Catcher, there are best practices to make sure your experience is as positive as possible.
Play it Safe by Betting on 1
The number 1 has the most segments on the wheel, with each number following having progressively less and less. So you'll find that number 1 coming up most often. With a nice even money payout, it's the simplest and most straightforward way to start playing – like betting on red/black in roulette.
Win Big With Multipliers
You can't exactly plan for it, but hitting multipliers is the key to the biggest wins. The excitement when you land on the 7x really ratchets up the tension – and when you start getting rollover multipliers it gets out of control.
Get Social
Even more so than traditional live casino games, Dream Catcher and other game show style games are all about having fun. Feel free to congratulate your fellow players. Interact with the dealer. It's all in the spirit of the game!
Play Live Today
In the modern world, more and more people are opting to stay at home and experience live casino gaming online.
With the sites and sounds of a real casino available at the touch of your fingertips from the comfort of your own home, it just makes sense.
Games like Dream Catcher show how the gaming options are expanding – from all the casino classics you know and love to brand new interactive games of luck. Cheering the wheel with all your fellow players from around the world is really fun – it's like you're the star of your own game show.
Check out our list of recommended sites to find the best places to play dream catcher today!
FAQs
Can I play Dream Catcher for Free?
No. Dream Catcher live is a game that does require you to bet money.
Is Dream Catcher safe to play online?
It is. The wheel is real, and If you check out the reviews of our recommended sites you will see that we test out the security of every site on the list.
How does Dream Catcher work?
A live dealer spins the Dream Catcher wheel and you use virtual betting software to place your bet on which number will show up. It is done in real time using a high quality video feed.
Is Dream Catcher legal?
Yes, depending on where you are located. Again, check out our list of recommended sites to see which ones work best for where you are located.
Was this content helpful?
Help us improve our content with your ideas.
Thank you for your feedback! We will do our best to improve this content!