|
December 04, 2023
|
Reading time: 6 min
|
Views: 5.9K
Casinos with Monopoly Live
Evolution is one of the leading providers of Live Dealer games to casinos around the world, so it's not hard to find places to play Monopoly Live.
As is the case with any online casino game however, availability is only one side of the story. You also need to make sure your site is trustworthy, that has good banking options, a valuable welcome bonus and much more.
ℹ Advertiser Disclosure
At Betspin.com we put player safety and security first. While we do accept a commission from partners which may affect brand positioning, we are dedicated to only working with trustworthy and reliable operators. All our reviews are written and rated independently of the paying partner and we reserve the right to decline commissions from operators who do not meet our standards. Our list of top live casinos is not comprehensive of every casino operating in the market but is updated continuously with the best and newest brands.
Here on BetSpin, we only recommend sites that we have personally tested and reach our highest standards. If you find an online live casino included on our site, you can take it as a sure sign that a high quality experience awaits.
Read our reviews and check out our recommended sites for more details.
What is Monopoly Live?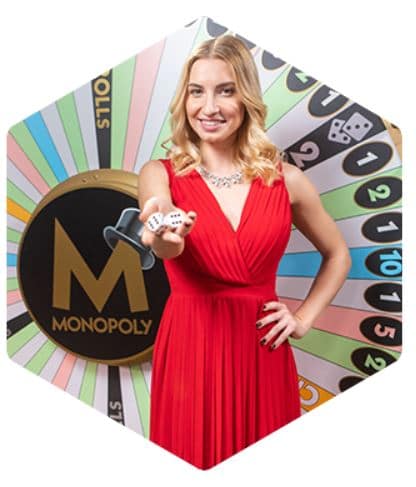 Monopoly Live is a live dealer casino game, based on the classic board game Monopoly and produced by Evolution in partnership with Hasbro.
The game uses a Wheel of Fortune style wheel with Monopoly themed segments, and players bet on where the wheel will land. If you bet on the correct segment, you win and get paid out in real time.
The wheel also contains segments for bonus rounds. If this hits, the action is transferred to a virtual Monopoly board, which Mr. Monopoly himself makes his way around, picking up prizes and bonuses.
The wheel for the main game is entirely physical and the winning segments are randomly determined by where it stops spinning. On the other hand the virtual bonus round is entirely computer generated, and uses RNG software like classic casino games.
The game is run by a real live dealer or host, who spins the wheel and chats to the players. Throughout the game, a virtual Mr. Monopoly site beside the wheel, ready to jump up and get involved in the bonuses.
Monopoly Live Rules
Monopoly live is a simple game that involves betting on where you think the wheel will land, after the live host spins it.
You have six different options to bet on:
Number 1 pays out even money
Number 2 pays out 2/1
Number 5 pays out 5/1
Number 10 pays out 10/1
2 Roll Bonus Game
4 Roll Bonus Game
You can choose to bet on as many or as few as you like, with a variety of limits. The frequency with which the numbers appear on the wheel correspond to their payouts.
To bet, you simply need to choose your chip size and then click on the correct bet to make your chips appear – very similar to betting on other casino games like blackjack or roulette.
Remember that this game is played in real time, so you need to have your bets placed in good time before the host spins the wheel.
If you land on a winning number you get paid out immediately.
The wheel also includes some special segments.
You can land on a Chance card. If this happens, Mr. Monopoly reveals a random bonus – like a re-spin multiplier, or a cash prize. For respins, your current bets remain in place as the wheel is spun again. You can also draw several Chance cards in a row, and multiply the multipliers.
Monopoly Live's Bonus Games
There are special segments for each of the bonus games: three for the 2 roll bonus games and just one for the 4 roll bonus games. To qualify for these games, you need to have placed a bet on the segment before the spin. If it lands on a bonus game that you haven't bet on, you get to watch the bonus but can't win any money.
The bonus games are potentially very valuable, so it's a good idea to always have a small bet on them.
If you have a multiplier in play and manage to land on a bonus game, all of the prizes are multiplied – which means you could be playing for HUGE money.
Once the bonus segment lands, Mr Monopoly rushes off screen and we're transported to a huge 3D, virtual Monopoly board.
Each of the streets on the board has a multiplier attached. Just like in the game, they get progressively more valuable the further along the board you go. There are also Chance and Community Chest squares, which have spot prizes.
Mr Monopoly starts at the first square and the virtual dice are rolled. You either start with 2 or 4 rolls, depending on which bonus game you qualified for.
Just like in the real game, doubles mean you get an extra roll. Every square that Mr Monopoly lands on means you collect the prize on that square. If he makes it all the way back to Go, every single value is doubled.
The bonus games are the key to the biggest wins in Monopoly Live, and they're also the most exciting part of the game.
Tips and Strategy
When it comes down to it, Monopoly Live is a game of luck. Everything depends on where the wheel randomly stops spinning, and no strategy you can use will help you predict that.
However, after our tests the experts at BetSpin do have some tips to help you get the most out of the game.

Always Bet the Bonus Games
The regular game is pretty fun and simple, but the bonus games are where things really get going. The potential for a really big win is just so much higher in the bonus. Plus, the last thing you want is to have to sit through a big bonus round where everyone else is getting rich – and you haven't qualified.
We recommend always having at least a small bet on the bonus games.
Start Off Slow
There are six different bets available with Monopoly Live, but we recommend taking it slow until you get a feel for the game. A small bet on the bonus games plus a bet on "1" – which lands fairly often and pays out even money – is a good way to ease yourself in.
Be Part of the Team!
Unlike some live games, with Monopoly Live virtually everyone is rooting for the same thing – the bonus games. Having other people getting hyped in the chat when you land on a bonus is all part of the fun – so get excited and get sociable!
Get on Board With Monopoly Live
Monopoly Live is a seriously fun game, and very easy to get the hang of. Qualifying for the four-roll bonus game – especially if you happen to have a live multiplier – is one of the most exciting and valuable parts of any live dealer game we've experienced.
We love the Monopoly theme, from landing random Chance cards on the wheel to making your way around the familiar board in the bonus.
The combination of IRL and virtual works great too. We're happy to recommend trying out Monopoly Live for yourself.
Monopoly Live vs Other Live Dealer Games
Evolution has other games which roughly follow the same pattern as Monopoly Live: a game show feel with a real host spinning a physical wheel, where you bet on which prize you think will land.
Crazy Time for example uses a very similar wheel and a similar betting format – but with very different bonuses up for grabs. Mega Ball forgoes the wheel and instead goes for a bingo-style ball drawing game.
Compared with classic casino games like blackjack, there is more of an emphasis on fun and the random element with Monopoly Live. The chat is normally hopping too, especially with everyone rooting for the Bonus Games to hit.
In terms of fun crossover games, you should also check out Deal or No Deal based on the classic TV show. Or head to our page on Live Dealer Game Shows for more info.
Claim Bonuses to Play Monopoly Live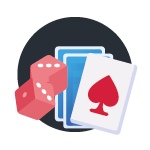 The best live dealer sites come fully loaded with bonuses and promotions designed to attract new members. They could be Deposit Bonuses, No Deposit Bonuses, Free Spins, Cashback Bonuses and many more.
For a full explanation of all of the above and more, plus loads of details on wagering requirements and other important terms and conditions, you should check out our full section on Live Casino Bonuses.
We've got all the info you need to know before accepting any bonus.
You can also find tons of details about the different bonuses offered by specific casinos in our reviews.
Monopoly Live on Mobile
Just like all the titles created by Evolution, Monopoly Live has been fully optimized for mobile access. That means you can play just about anywhere you have internet access, via your mobile or tablet.
The game is compatible with both iOS and Android devices, and you can play directly through your device's browser.
During our tests, we were very satisfied with the gaming experience on mobile. The video feed is crystal clear, and there were no issues with the transition into the virtual bonus game.
As long as your internet connection is reliable, you'll have no trouble.
FAQ
How does Monopoly Live Work?
A real host spins the Monopoly Live Wheel, and you get to bet on which segment it lands. If you predict the right segment, you win. You can also bet on the bonus game, which takes place on a virtual Monopoly board and involves picking up cash prizes as Mr. Monopoly makes his way around.
Is Monopoly Live Fixed?
No. In the regular game, Monopoly Live uses a physical wheel which spins and randomly comes to rest, similar to roulette or Wheel of Fortune. Anyone playing at any time may bet on any segment, so it can't be fixed.
The virtual part of the game is determined using RNG software, which is independently regulated for fairness.
What is the RTP of Monopoly Live?
The RTP is 96.23
Was this content helpful?
Help us improve our content with your ideas.
Thank you for your feedback! We will do our best to improve this content!