|
December 04, 2023
|
Reading time: 8 min
|
Views: 5.9K
If you're looking for an online casino game that is a little bit bingo, a little lottery and has a sprinkling of game show action, Mega Ball is the game for you.
This game provides a bit of a break after playing blackjack, roulette, baccarat and all the other classic casino games you can find at online live casinos.
Just like in bingo, you purchase a card or a packet of cards for whatever value you select and wait for the action! A live machine randomly draws numbered balls, with no need to dab these cards – the computer keeps track of that for you! Collect lines on your cards, and the more lines of numbers you get the more you win. It's as simple as that.
Throw in some multipliers and you got yourself a really exciting game!
On the this page we have everything you need to know about Mega Ball Live including:
Where Can I Play Mega Ball?
Mega Ball is one of the more popular game show style live casino games out there. Since it's created by Evolution Gaming, Mega Ball is pretty widely available at live casino sites.
For the best casinos that offer up Mega Ball, our list of recommended sites is where you're gonna want to go. These sites are tried and tested by our team of experts and come highly recommended.
ℹ Advertiser Disclosure
At Betspin.com we put player safety and security first. While we do accept a commission from partners which may affect brand positioning, we are dedicated to only working with trustworthy and reliable operators. All our reviews are written and rated independently of the paying partner and we reserve the right to decline commissions from operators who do not meet our standards. Our list of top live casinos is not comprehensive of every casino operating in the market but is updated continuously with the best and newest brands.
What is Mega Ball?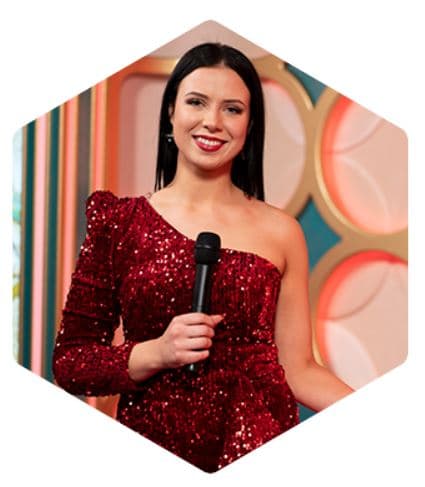 Mega Ball is an online live casino game that is played in real time, with a real dealer, with real mechanics.
Broadcasted in high definition, the picture is clear and sharp and you won't miss any of the action.
Mega Ball is not unlike bingo. The game uses numbered 5 x 5 cards with a free space in the middle. You can buy between 1 and 200 cards per game, and if you want you can even change cards to maybe get that special lucky number on it.
All you need to do is complete a line of numbers, and the more you get the more you win. Your winnings are automatically awarded to you so you can play another round right away.
And just like other live casino games, there is a chat function so you can interact with the dealer and other players.
If you're looking for something fun and simple, with the extra excitement of waiting to see what ball shows up – this is the game for you.
Variations of Mega Ball
Mega Ball comes from Evolution Gaming and is actually fairly new to the gaming giant's stunning line up of live casino games.
Mega Ball is perfect for those who enjoy bingo, keno, and lottery style games because of its randomly selected numbers and cards. You don't have to learn a lot of rules and strategies to play, it is a very accessible game for all levels of players.
And while there is only one Mega Ball, Evolution Gaming have come up with some other great lottery and game-show style live casino games. If you are looking for something that is similar to play, here are some other options to try out:
How to Play Mega Ball
Mega Ball might look overwhelming at first, with the wheel and the ball generator and all the cards. But it couldn't be simpler. This game will appeal to keno, bingo and lottery players, as well as those who gravitate towards the game show style live casino games.
To play, start by deciding how much you want to spend on a card. Once you've chosen the value, you can purchase between 1 and 200 cards electronically. To make it easy the game has 1, 10, 25 and 100 card purchase buttons. Each 5 x 5 card has 24 random numbers on them, with one free space in the middle.
Before betting is closed, you'll have another chance to add more cards or change the value. Just keep in mind that any changes will apply to all the cards you've selected.
Your cards will be visible on the screen regardless of the amount. You can zoom in on any card you want while betting time is open, and if you hit refresh you can change up the numbers on the card until you are satisfied.

Once betting is closed, 20 out of 51 numbered balls are drawn from the machine. Don't worry about dabbing the cards. Each time a number is drawn that you have on any of the cards a badge automatically appears on it. When a line is completed, a yellow line goes through it and your winnings per card are displayed on each card.
As the balls continue to be drawn, cards that have more badges become more prominently displayed. You can also see how much you will win if certain numbers are drawn. This adds to the excitement.
After all 20 balls are drawn, it's time for the Mega Ball! The dealer spins a wheel which has a variety of multipliers, which range from 5x to 100x. and another physical ball is drawn from the machine. If the Mega Ball happens to complete any lines on any of your cards, your payout on that card is multiplied by the Mega Ball Multiplier.
If a line is not complete, the Mega Ball multiplier doesn't apply and it acts as a normal number.
If you have two Mega Balls on the same card completing the line, only the highest multiplier is applied.
After the game your cards are sorted and your winnings are added up and displayed on your screen.
| | |
| --- | --- |
| Number of Lines per card | Payout |
| 6+ lines | 10,000x your bet |
| 5 lines | 1,000x your bet |
| 4 lines | 250x your bet |
| 3 lines | 50x your bet |
| 2 lines | 5x your bet |
| 1 line | 1x your bet |
The RTP is 95.40% based on one card and the minimum amount to buy a card can be as low as 10 cents.
Megaball Bonuses
Online casinos want as many people as possible to come and play, so they offer up bonuses and promotions to encourage them.
Many bonuses are reserved for new users, since getting brand new players to sign up is a priority. But you can also find promos out there for regular players.
Always be sure to read the fine print before accepting any bonuses. Most casinos require you to bet a certain amount before you can even withdraw any winnings that come from bonus cash.
As always, you can read much more about how Mega Ball bonuses work, including welcome bonuses, on running promotions, and much more, in the live casino bonus section on our site. Here, we've also listed the most common offers to be aware of.
Welcome Bonus
The most prominent and popular type of bonus available. Just about all online casinos will offer one of these to new members, usually in the form of matching your first deposit up to a certain amount.
There are normally wagering requirements associated with any bonus cash you get from a welcome bonus.
No Deposit Bonus
With a No Deposit Bonus the casino offers you some bonus cash just for signing. No need to deposit any of your own money, you can start gambling right away for real money, with no financial risk.
This is a great way to try out a site with no commitment. However if you end up winning off the back of your No Deposit Bonus, you'll find the wagering requirements are even larger than with a regular welcome bonus.
Regular Promotions and Other Bonuses
These bonuses are for the players who end up playing regularly on a live dealer site. Kind of like a reward for sticking around, these offers are often daily, weekly or monthly.
Reload bonuses, which are like deposit matching bonuses but on subsequent deposits, are common.
There are also come casinos that will offer VIP or loyalty programs. Points are accumulated as you play real money games, which you can redeem for prizes or other promotions.
Mega Ball on Mobile
Our list of recommended sites have the best options for you to play on different devices. Mega Ball is filmed in HD, so no matter how big or small your screen is you're always getting excellent viewing quality.
Mega Ball is a game you can play on your tablet, phone or a smaller screen. Evolution Gaming actually recommends playing on a desktop computer or laptop so that there are no difficulties seeing the cards, but in our experience mobile works fine too – especially if you're only playing one or two cards.
For more information on mobile gaming, head over to our live casino apps section.
Tips and Strategy
Like other wheel based or game show style live casino games, Mega Ball is a game of luck. Your winnings are based on the numbers randomly selected from the ball machine generator.
That means there isn't much need for strategy as such. But we can offer up some tips to make your experience even more enjoyable.
The More Cards The More Chances To Win
While it doesn't guarantee you'll get a line (let alone multiple lines on the same card), it does increase your odds of getting lines when you have more cards in play. Just be sure to remember that when you're betting the amount is per card – so if you're betting 1$ a card, 100 cards would be 100$. Don't get carried away and only bet what you can afford, but the more cards you have the more chances you have to win.
Get Lucky With Multipliers
The Mega Ball multipliers are the best in this game. It doesn't happen too often that the elusive Mega Ball is exactly the number you need to complete a line, but when it does you are guaranteed a big payout.
Sometimes you can even have two Mega Balls in the same game. With the highest value being 100x, you can definitely win big.
Don't be Afraid to Chat
Mega Ball is a naturally relaxed and sociable game. It's really fun to chat with the dealer and other players through the chat button. You can discuss multipliers, numbers you're rooting for, or just about whatever you want. The hosts are there to have fun and keep you engaged in the game, so don't be shy!
Start Playing Today
The great thing about online live casinos is you don't have to leave the comfort of your home to play.
These live games are here to bring the casino experience to you. Even though you're watching through a screen you're still getting the sights and sounds of a casino in real time.
Game show style live games let you play and wager on something that is different and exciting and fun – which is exactly what Mega Ball is. There's always room at a table when you're at an online casino.
Read our list of recommended sites to find the best places to play Mega Ball today!
FAQs
Can I play Mega Ball for Free?
No. While you can watch the game, it does require you to make a bet to play.
Is Mega Ball safe to play online?
Yes. The ball generating machine, the dealer, the wheel and the balls are all real. The game is played in real time, and Evolution Gaming has a great safety and security record. As long as you play at a trusted site (like the ones we recommend) you're all good.
How does Mega Ball work?
Similar to bingo, you can pay for a card or cards of numbers with the aim of completing lines. The real dealer starts the random ball generator and 20 numbers and 1 Mega Ball number are drawn. You get paid out for every line you successfully complete
Is Mega Ball legal?
Yes, if you are located in an area that allows online gambling. Check out our list of recommended sites for the safest options.
Was this content helpful?
Help us improve our content with your ideas.
Thank you for your feedback! We will do our best to improve this content!